Country Transition Planning
The Global Polio Eradication Initiative (GPEI) has supported many countries across the world to become polio-free, and over 90% of GPEI resources exist at the country level. As part of the transition planning, these countries will need to integrate important parts of these polio-funded functions and resources into their existing health structures, and phase out those no longer needed
For this transition to be successful, national governments must lead transition planning efforts at the country level. This ensures the process is tailored to meet each individual country's needs and priorities, and captures lessons learned from the varied pathways to achieving eradication.
Every country that has staff, systems and infrastructure funded by the polio programme should participate in the transition process, however the GPEI has identified 16 countries as priority countries for transition. These 16 countries receive over 95% of GPEI-funded resources and programme is working closely with them to support development of their transition plans.
Priority countries for transition planning
| | | | |
| --- | --- | --- | --- |
| Afghanistan | Chad | Indonesia | Pakistan |
| Angola | Democratic Republic of the Congo | Myanmar | Somalia |
| Bangladesh | Ethiopia | Nepal | South Sudan |
| Cameroon | India | Nigeria | Sudan |
Priority Countries: Priority countries where Transition Planning is under way or soon to be initiated
Endemic Countries: High priority endemic countries where Transition Planning is under way
The transition planning process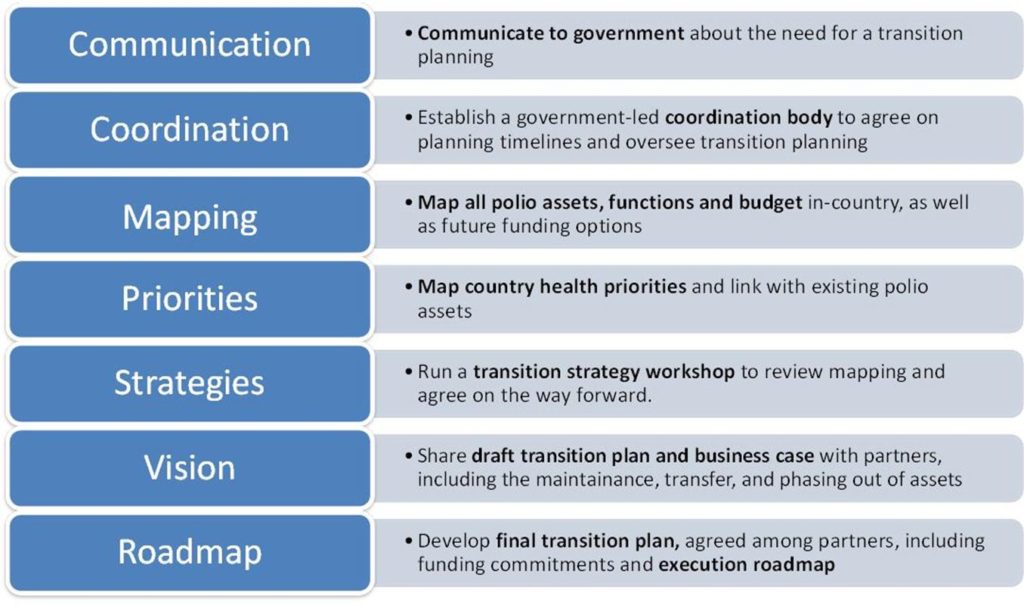 GPEI support
GPEI is supporting the transition planning process with guidance and specific country support, including:
Technical assistance, tools and guidance for activities such as i) mapping of assets and government priorities; ii) documenting best practices and lessons learned; and ii) developing the business case for transition strategies
Advocacy support to increase government awareness of the risks and opportunities presented by the scale down and closure of GPEI
Monitoring country progress in the transition planning process
Capturing and disseminating experiences, ideas and lessons from the transition planning process between countries and to the broader global health community
For questions or assistance in transition planning, please email poliotransition@taskforce.org
Resources
Guidelines for preparing a transition plan | Mar 2015 | English | Français | Português |
Asset mapping
The mapping of polio-funded assets is underway or complete in the majority of the 16 priority countries.
Country asset mapping snapshots provide an overview of the results of  in-country asset mapping exercises to date.
NB: These document are awaiting government approval, and may require further updates as transition planning and GPEI scale down continues