Research + Innovation
Research and innovation is a vital component of the Global Polio Eradication Initiative, providing the necessary evidence and tools to guide the final steps to a lasting polio-free world and beyond. The Global Polio Eradication Initiative coordinates and supports an extensive programme of research and product innovation and development from a wide range of core scientific disciplines. The research programme has two broad objectives: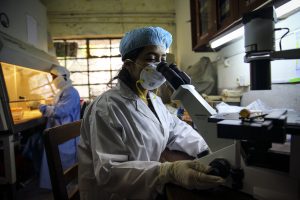 to identify, develop and evaluate new tools and tailored approaches to assess and sensitise to ensure the impact of eradication efforts is maximised
to inform long-term policy for the post-eradication era.
Current research areas include :
Optimizing oral polio vaccine efficacy
Developing affordable inactivated polio vaccine
Managing risks associated with vaccine-derived polioviruses and vaccine-associated paralytic polio (including OPV cessation)
Antivirals
Polio diagnostics
Surveillance research
Request for Proposals
Consultancy to provide technical support the GACVS (Global Advisory Committee for Vaccine Safety) Subcommittee for nOPV2
Deadline for submission:  13 November 2020 to : polioresearch@who.int
For prospective bidders:
Related Resources