The Global Polio Laboratory Network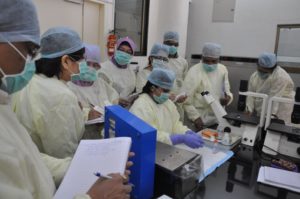 Effective polio surveillance requires virologists, epidemiologists, doctors and national immunization programme staff, backed up by a global network of laboratories.
The Global Polio Laboratory Network (GPLN) was established in 1990 by WHO and national governments. Its primary responsibility is to distinguish poliovirus as a cause of acute flaccid paralysis (AFP) from diseases other than poliovirus.
The GPLN consists of 145 laboratories in a three-tiered structure.
National laboratories: national laboratories follow standardized procedures for detecting polioviruses from stool samples collected from AFP cases.
Global specialized laboratories: all wild polioviruses detected are referred to one of the seven specialized global laboratories to monitor virus transmission patterns.
All laboratories are continually monitored for their adherence to quality indicators and have annual accreditation assessments.
In 2009, the Network tested over 150 000 stool samples from nearly 90 000 cases of acute flaccid paralysis, and other sources. It also started using a new method to routinely screen for vaccine-derived polioviruses. The method is based on real-time reverse transcription polymerase chain reaction (rRT-PCR), which targets nucleotide substitutions that occur early in the emergence of the virus.
In addition to surveillance, the GPLN carries out a research agenda aimed at improving laboratory diagnostics.
The GPLN meets every year to develop recommendations for improving performance and coordination and determine the research and resource needs of the network laboratories.
Related links