16/04/2018
At-risk countries, Endemic countries, Financing and donors, Outbreak countries, Vaccines
Pakistan
UAE Leadership Supports Delivery of 281 Million Vaccines to Protect Children from Polio in Pakistan
His Highness Sheikh Mohamed bin Zayed Al Nahyan, Crown Prince of Abu Dhabi, disburses final US$12 million of US$120 million commitment made in 2013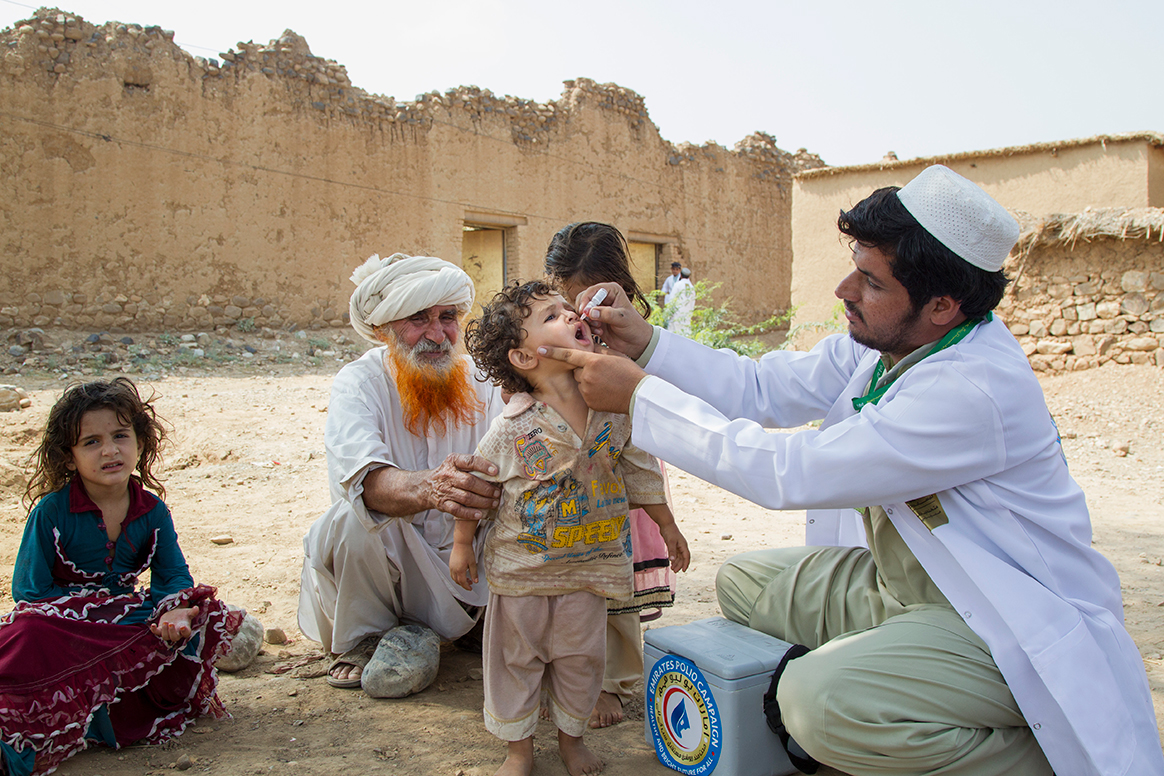 On top of the US$ 120 million committed in 2013, last year, HH Sheikh Mohamed bin Zayed pledged an additional US$ 30 million towards polio eradication, and the UAE is active on the ground in Pakistan through the UAE-Pakistan Assistance Program
UAE support also funded more than 5000 committed full-time vaccinators in highest-risk districts of Pakistan
Last year saw the lowest number of wild poliovirus cases in history (22 worldwide); Pakistan reported a 97 percent decline in cases between 2014 and 2017
GENEVA (16 April 2018) – The Global Polio Eradication Initiative (GPEI) announced today that the UAE has completed the US$ 120 million commitment made by His Highness Sheikh Mohamed bin Zayed Al Nahyan at the 2013 Global Vaccine Summit in Abu Dhabi.
"We thank the UAE for their long-term generous support and unwavering dedication to polio eradication, and particularly the personal commitment of His Highness Sheikh Mohamed bin Zayed Al Nahyan, Crown Prince of Abu Dhabi," WHO Director General Dr Tedros Adhanom Ghebreyesus said. "This is the kind of support that will ensure we reach every last child to complete the job and to show the way to delivering health to all."
Polio is a highly infectious disease that can cause lifelong paralysis, but it is entirely preventable with vaccines. Only three countries remain which have never stopped polio: Afghanistan, Pakistan and Nigeria. When the polio eradication effort was launched in 1988, 350 000 children were paralyzed by polio every year across 125 countries.
Polio eradication efforts have since made remarkable progress and there were only 22 cases in 2017 – the lowest ever recorded number. However, a number of key challenges remain. Reaching the most vulnerable children with the polio vaccine is hampered by a range of hurdles including difficult terrain, insecurity, and large-scale population movements.
Following the Global Vaccine Summit, the UAE expanded its role through the UAE Pakistan Assistance Program (UAE-PAP) to ensure that further gains would be made where it was needed the most. Through the "Emirates Polio Campaign" initiative, the UAE has helped drive on-the-ground eradication efforts within the most vulnerable communities in Pakistan.
Speaking about the UAE's work, His Excellency Mohamed Mazrouei, Undersecretary of the Crown Prince Court of Abu Dhabi said: "The UAE's pivotal role in eradicating polio completely is not limited to being a donor only, but extends to include its capacity to convene key groups and provide on-ground support to deliver vaccines in the highest risk areas of Pakistan.
"The UAE's support – both as a leading donor and passionate advocate – has been critical for getting as close as we've ever been to making history by eradicating polio," UNICEF Director of Polio Eradication Akhil Iyer said. "This is a gift not only to the children of Pakistan but to all future generations of children, everywhere, who are so close to the goal of being able to be born and be raised in a polio-free world."
Dr. Chris Elias, President of the Global Development Program, Bill & Melinda Gates Foundation, said: "The UAE and His Highness Sheikh Mohamed bin Zayed Al Nahyan have shown an unwavering commitment to end polio, and we are delighted to partner with them in this effort. Without their involvement, achieving a record low number of polio cases in 2017 would not have been possible."
The UAE is a longtime supporter of the polio eradication program. In addition to the US$ 120 million that His Highness Sheikh Mohamed bin Zayed Al Nahyan pledged in 2013, he pledged a further US$ 30 million to polio eradication, announced by Bill Gates at the Rotary International Convention in Atlanta, USA in June 2017. With additional commitments in 2011 and 2014, in total, the UAE has contributed US$ 167.8 million since 2011 to help end polio, with direct support to Pakistan, Afghanistan, Somalia, Ethiopia, Kenya, and Sudan.
About GPEI
The Global Polio Eradication Initiative (GPEI) is led by national governments and spearheaded by the World Health Organization (WHO), Rotary International, the US Centers for Disease Control and Prevention (CDC), and the United Nations Children's Fund (UNICEF), with the support of the Bill & Melinda Gates Foundation. Since its launch at the World Health Assembly in 1988, the GPEI has reduced the global incidence of polio by more than 99%.
The GPEI receives financial support from governments of countries affected by polio, private sector foundations, donor governments, multilateral organizations, private individuals, humanitarian and non-governmental organizations and corporate partners. A full list of all contributors is available on the GPEI website, http://polioeradication.org/financing/donors/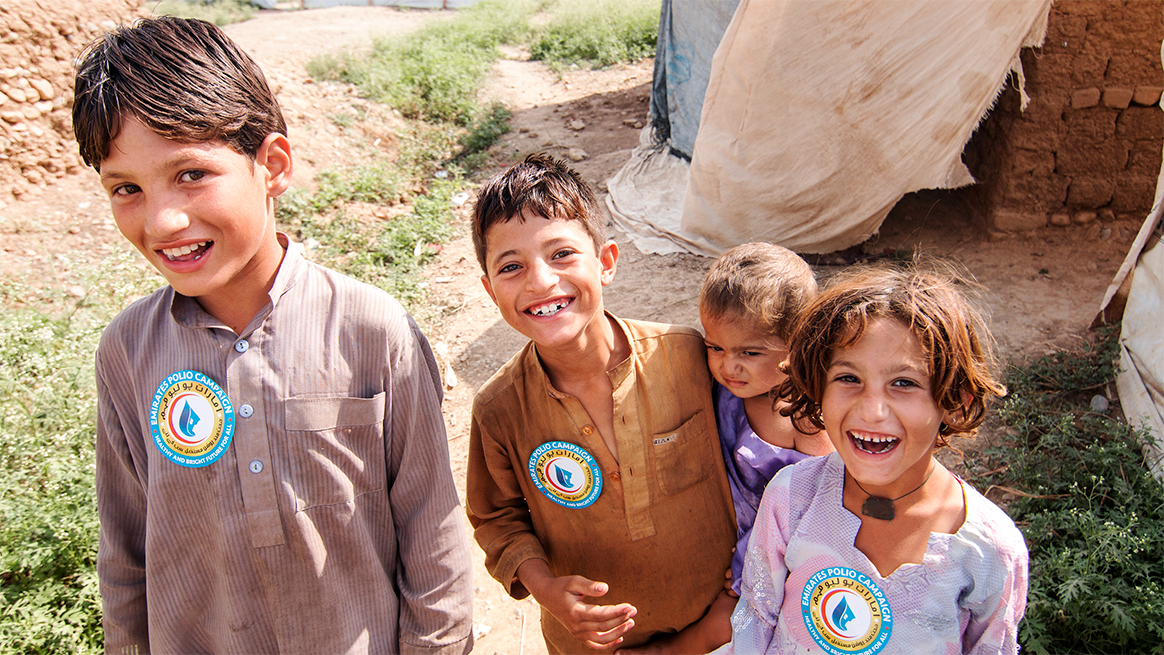 ---
Related News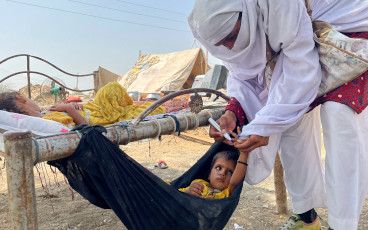 22/11/2023
21 November 2023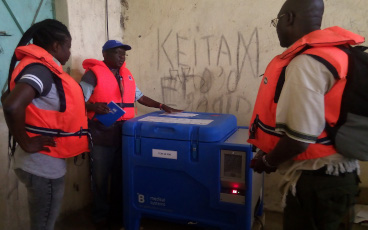 20/11/2023
20 November 2023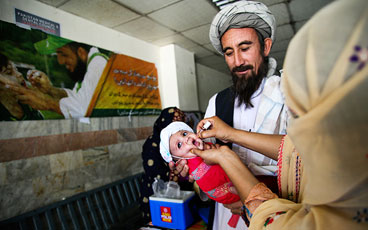 09/11/2023
First visit by the POB and representatives from all GPEI partners to Pakistan in 2023.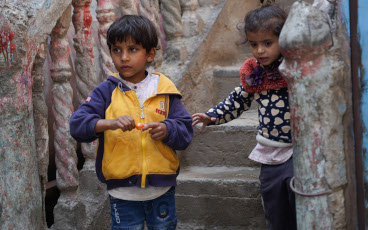 08/11/2023
Making the arduous journeys that underpin Yemen's effort to end its poliovirus outbreak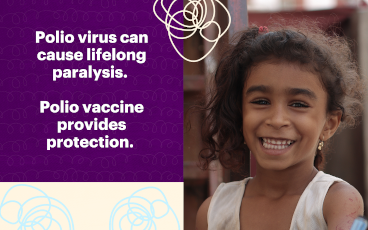 30/10/2023
Engaging digital communities to build trust in vaccines and eradicate polio