25/04/2013
Financing and donors
Global Leaders Support New Six-Year Plan to Deliver a Polio-Free World by 2018
Global eradication programme will move simultaneously on multiple fronts expanding focus to improve childhood immunization and protect gains made to date.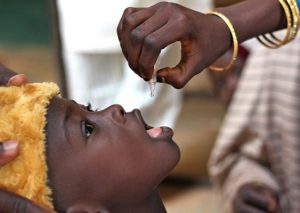 April 25, 2013 – Today, at the Global Vaccine Summit, the Global Polio Eradication Initiative (GPEI) presented a comprehensive six-year plan, the first plan to eradicate all types of polio disease – both wild poliovirus and vaccine-derived cases – simultaneously. Global leaders and individual philanthropists signaled their confidence in the plan by pledging three-quarters of the plan's projected US$ 5.5 billion cost over six years. They also called upon additional donors to commit up front the additional US$1.5 billion needed to ensure eradication.
The new plan capitalizes on the best opportunity to eradicate polio, with the number of children paralyzed by this disease at their lowest level ever (223 in 2012,and 19 so far this year). The urgency is linked to the tremendous advances made in 2012 and the narrow window of opportunity to seize on that progress and stop all poliovirus transmission before polio-free countries become re-infected.
"After millennia battling polio, this plan puts us within sight of the endgame. We have new knowledge about the polioviruses, new technologies and new tactics to reach the most vulnerable communities. The extensive experience, infrastructure and knowledge gained from ending polio can help us reach all children and all communities with essential health services," said World Health Organization Director-General Margaret Chan.
The Polio Eradication & Endgame Strategic Plan 2013-2018 was developed by the GPEI in extensive consultation with a broad range of stakeholders. The plan incorporates the lessons learnt from India's success becoming polio free (no cases since January 2011) and cutting-edge knowledge about the risk of circulating vaccine-derived polioviruses. It also complements the tailored Emergency Action Plans being implemented since last year in the remaining polio-endemic countries – Afghanistan, Pakistan and Nigeria – including approaches in place to vaccinate children in insecure areas.
At the Summit, held today in Abu Dhabi, global leaders announced their confidence in the plan's ability to achieve a lasting polio-free world by 2018 and pledged their financial and political support for its implementation.
"Ending polio will not only be a historic feat for humanity, but also a huge part of our efforts to reach every hard-to-reach child with a range of life saving vaccines," said UNICEF's Executive Director Anthony Lake.
The plan addresses the operational challenges of vaccinating children, including in densely populated urban areas, hard-to-reach areas and in areas of insecurity. The plan includes the use of polio eradication experience and resources to strengthen immunization systems in high-priority countries. It also lays out a process for planning how to transition the GPEI's resources and lessons, particularly in reaching the most marginalized and vulnerable children and communities, so that they continue to be of service to other public health efforts. It is estimated that GPEI's efforts to eradicate polio could deliver total net benefits of US$ 40-50 billion by 2035 from reduced treatment costs and gains in productivity.
Earlier this month, in a Scientific Declaration on Polio Eradication, more than 400 scientists and global health experts from around the world endorsed the GPEI plan, and reaffirmed the conviction that a polio-free world can be secured by 2018.
In remarks made at the Summit, Bill Gates, co-chair of the Bill & Melinda Gates Foundation, underscored the numerous benefits of ending polio and the need to provide health and development interventions to the hardest to reach children. He also called on additional donors to come forward with long-term commitments to fully fund the GPEI plan.
"This plan isn't just a polio eradication plan, it's a global immunization plan with the goal of ending polio while improving efforts to protect all children, including the most vulnerable, with life-saving vaccines," said Gates. "Successful implementation of the plan requires a significant, but time-limited investment that will deliver a polio-free world and pay dividends for future generations."
Gates announced that his foundation would commit one-third of the total cost of the GPEI's budget over the plan's six-year implementation, for a total of US$ 1.8 billion. The funds will be allocated with the goal of enabling the GPEI to operate effectively against all of the plan's objectives. To encourage other donors to commit the remaining funding up front, the Gates funding for 2016-2018 will be released when GPEI secures funding that ensures the foundation's contribution does not exceed one-third of the total budget for those years.
Joining Gates was a new group of individual philanthropists that announced its support for full implementation of the new plan. The total new pledges from philanthropists to the polio initiative amounted to an additional US$ 335 million toward the plan's six-year budget. The donors commended the tremendous progress toward eradication made in the last year and their desire to help change history and end polio while the opportunity still exists. Commitments include:
Albert L. Ueltschi Foundation
Alwaleed Bin Talal Foundation-Global
Bloomberg Philanthropies
Carlos Slim Foundation
Dalio Foundation
The Foundation for a Greater Opportunity established by Carl C. Icahn
The Tahir Foundation
At the Summit, leaders from polio endemic countries reaffirmed their continued focus on polio eradication and welcomed the plan's broadened scope to improve immunization systems.
Praising the plan's expanded focus to ensure that polio eradication efforts – which reach the world's most vulnerable children – support broader health interventions, long-time donors Canada, Germany, Norway and the UK, as well as Nigeria announced new commitments to support the plan's long-term objectives. His Highness Sheikh Mohamed bin Zayed Al Nahyan, Crown Prince of Abu Dhabi and Deputy Supreme Commander of the UAE Armed Forces, announced a second pledge to polio eradication of US$ 120 million, adding to his first contribution made in 2011. A range of other donors, including the Islamic Development Bank, Ireland and Japan helped round out the additional pledges.
Rotary International, the flagship donor to the GPEI, pledged its commitment through 2018 to raise funds and mobilize support of the endgame strategy. "To stop polio once and for all, we need to act quickly so that children are fully protected and countries are not re-infected." said Rotary International President Sakuji Tanaka. "This takes the commitment of national and local leaders where polio still exists, the continued support of donor countries, and the steadfast commitment of heroic vaccinators."
GPEI will work with donors on the timely conversion of these pledges into commitments and the disbursement of funds so that the programme can fully deliver on the plan.
The plan's US$ 5.5 billion budget over six years requires sustaining current yearly spending to eradicate polio. The new plan's budget includes the costs of reaching and vaccinating more than 250 million children multiple times every year, monitoring and surveillance in more than 70 countries, and securing the infrastructure that can benefit other health and development programs.
"Today we have the fewest cases in the fewest places ever, making it critical to use the best opportunity the world has ever had to put an end to this terrible, preventable disease," said Anne Schuchat, M.D., head of the Center for Global health at the U.S. Centers for Disease Control and Prevention.
Press release in English ¦ Arabic
Related
---
Related News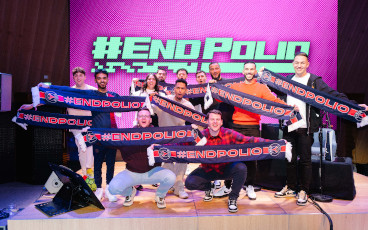 06/12/2023
Global Polio Partners, Paris Saint-Germain Endowment Fund, and the French Gaming Community Unite to #ENDPOLIO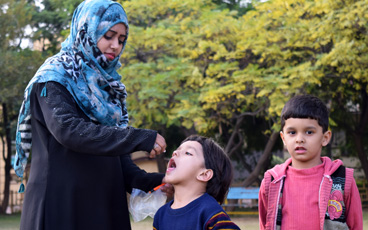 05/12/2023
As well as Build more Climate Resilient Health Systems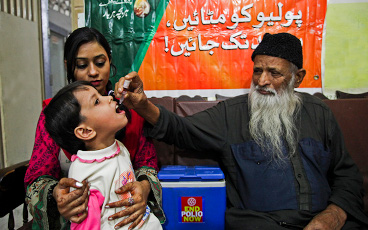 04/12/2023
Islamic Development Bank announces a new US$100 million loan approved in 2023 to help ensure a polio-free Pakistan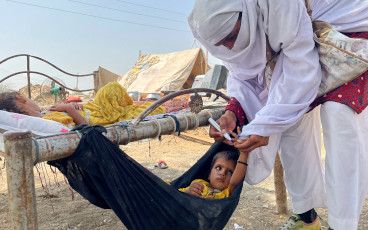 22/11/2023
21 November 2023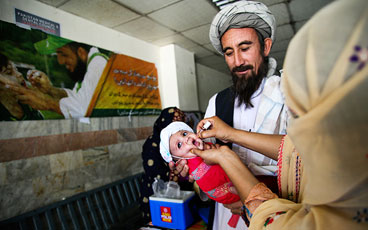 09/11/2023
First visit by the POB and representatives from all GPEI partners to Pakistan in 2023.