News Category:
Oral Polio Vaccine (OPV)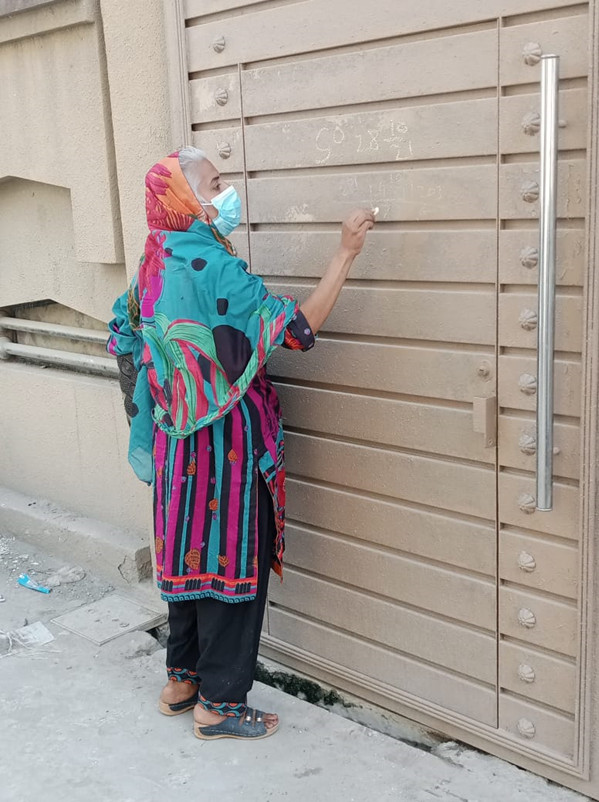 In 2021, when the news of cancer hit, Nomina Akhtar felt her world collapsing. It was discovered too late. By the time she knew, it was already stage-3 breast cancer.
Since 2015, Akhtar has been part of Pakistan's polio programme as a community health worker. During these six years, she has found friends and well-wishers among her team members who have given her the support to carry on.
Akhtar, 43 and a mother of three continues to work for polio eradication as she undergoes treatment for cancer. "I gathered my courage and promised that I will fight till the end and live for my children. All my family, colleagues and seniors were with me whenever I needed support. That gave me courage and made me believe that I could, in fact, beat cancer."
Based in Peshawar, Nomina's husband and her three children, aged six, seven and 18, rely solely on her income. The lockdowns due to the pandemic caused her husband, a motorcycle mechanic, to close down his shop that has yet to reopen.
A life with cancer has been both physically and emotionally exhausting. She is undergoing both radiation and chemotherapy in Peshawar. This means a commute of almost 20 kilometers after a whole day of work.
"When I have to go for chemotherapy after work, it becomes very draining. I have to take public transport and wait at the hospital for hours. There are times when I have to return without treatment because either the machine is faulty or something else comes up. This treatment regime along with the medicine will continue for at least five years. It's excruciatingly painful," she says.
Polio programme: a great source of strength for Akhtar
"My colleagues are like my extended family, and I am like a sister to them. When I found out about my cancer, they wept with me. They have stood by my children and myself every step of the way."
The supervisor of her area, Uzma Mansoor, says that when they first heard the news, they were devastated. "But it's great to see that she has not lost hope and is fighting the disease like a champion," she said.
The community she works in has also been incredibly supportive. "Some of the people in my work area came to know about my illness and they appreciated the fact that despite fighting cancer, I come to their doorstep during every polio campaign. Irrespective of extreme temperatures and illness, I am there to vaccinate their children and protect them from this life-threatening disease. Their support has increased manifold after this."
Sahibullah, the Union Council Polio Officer of her area, says not only does Nomina continue to vaccinate children, but she is a role model for all other polio workers.
"It was God's will, and we will face it with courage," says her husband Aurangzeb Akhtar. "Despite being ill, Nomina is the one who keeps us going. She is working and earning for our family as well as motivating us to not lose hope. My children and I are so proud of her. Inshallah she will get well very soon."
Nomina has strong conviction. She is fighting cancer and polio simultaneously, and is determined that she will defeat both very soon. "At least cancer has treatment," she says. "Polio is incurable and the sooner we end this disease forever, the better."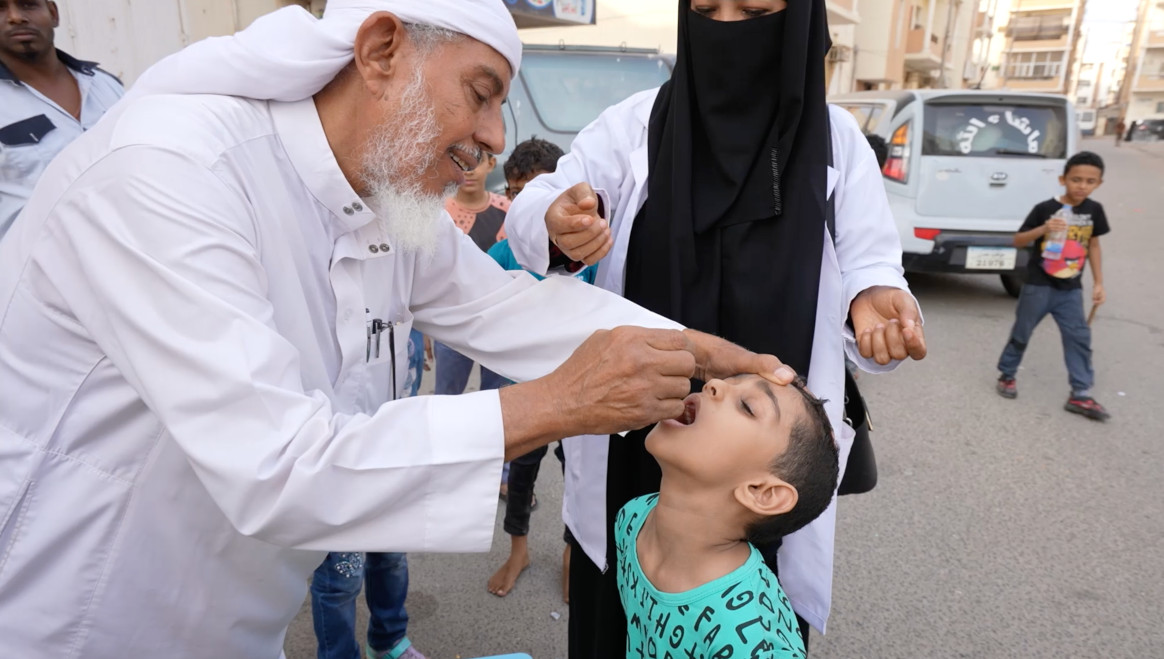 It's been a long day for Dr. Nabeel Abdu Omar Ali. Since early morning, he has been going from  one house to the next in a community in Aden, Yemen – listening to the concerns of parents and speaking to them about the importance of vaccination to save their children from polio. And he plans to continue till the sun goes down.
"The weather is pleasant now and I want to meet as many parents as possible, especially those who have concerns about vaccines. In a month's time, the heat and humidity will be unbearable, making it difficult to walk from house to house," says Dr. Nabeel.
Nicknamed "the mobile imam" by his peers, Dr. Nabeel is a pediatrician by profession, and a certified imam (Islamic teacher) from the Ministry of Endowment in Southern Yemen. He uses his religious knowledge and medical facts to educate the public about the importance of vaccination in protecting children from polio and other deadly diseases.
A few weeks back, he visited several families who were refusing vaccines in a nearby neighborhood. In addition to speaking to them about the safety and benefits of the polio vaccine, the 'mobile Imam' administered polio drops to his grandchildren in front of everyone at the community meeting.
"When the people saw a doctor and Imam like me vaccinating my own grandchildren, I think it was easier for them to believe that the vaccine was safe for their children too," says Dr. Nabeel with a smile.
Reaching out to other Imams for support 
Dr. Nabeel frequently reaches out to other Imams, training them about the benefits of vaccination and encourages them to share with the public during their Friday sermons.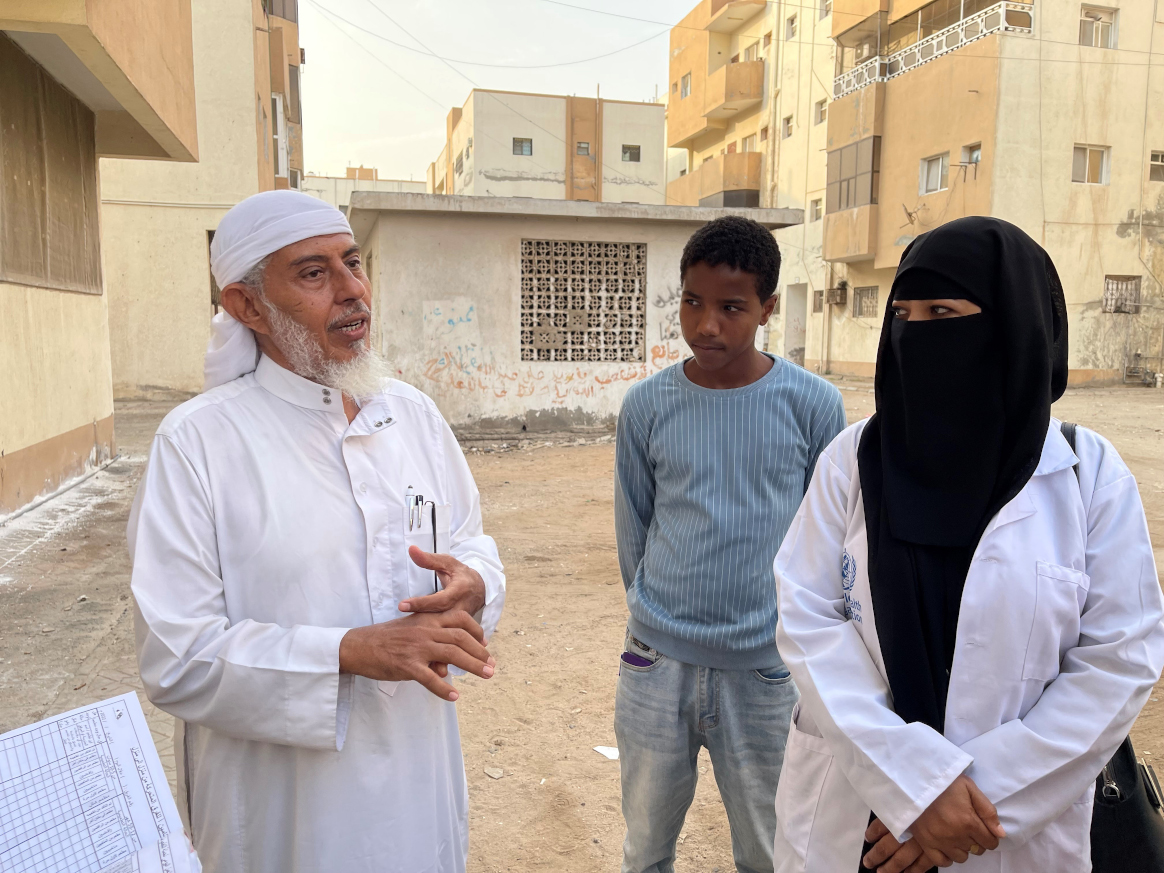 "Imams are very influential in our communities – to raise awareness, shape social values, and promote positive attitudes, behaviours and practices. For example, a single sermon is powerful enough to change misconceptions about vaccines in some communities. If Imams are fully equipped with accurate information, it goes a long way in build trust and creating vaccine acceptance among the people – helping children in the community to stay health and free from polio and other vaccine-preventable diseases," he adds.
The ongoing conflict in Yemen has severely damaged the health and basic infrastructure. There are frequent interruptions in power supply, and this often creates suspicion among community members as well as Imams whether vaccines are being stored safely.
"I was training a group of imams and they shared their doubts about the safety of the vaccine. They were skeptical about how refrigerators could store polio vaccines safely when there are so many power cuts in the area."
In response, Dr. Nabeel organized a tour for the group to a vaccine storage facility where they were able to see and learn about special refrigerators that are powered by solar energy when there are power cuts.
Promoting the benefits of vaccination for over a decade
Dr. Nabeel has been working for the immunization programme in Yemen for over 12 years, partnering with UNICEF for numerous polio vaccination campaigns and routine immunization services.
When he first started out as pediatrician, he met many children who were paralyzed by polio. He felt frustrated that so many children would have to suffer for the rest of their lives by a disease that could have been easily prevented by a vaccine. That is when he decided to dedicate his time to educate caregivers and parents on the benefits of vaccination.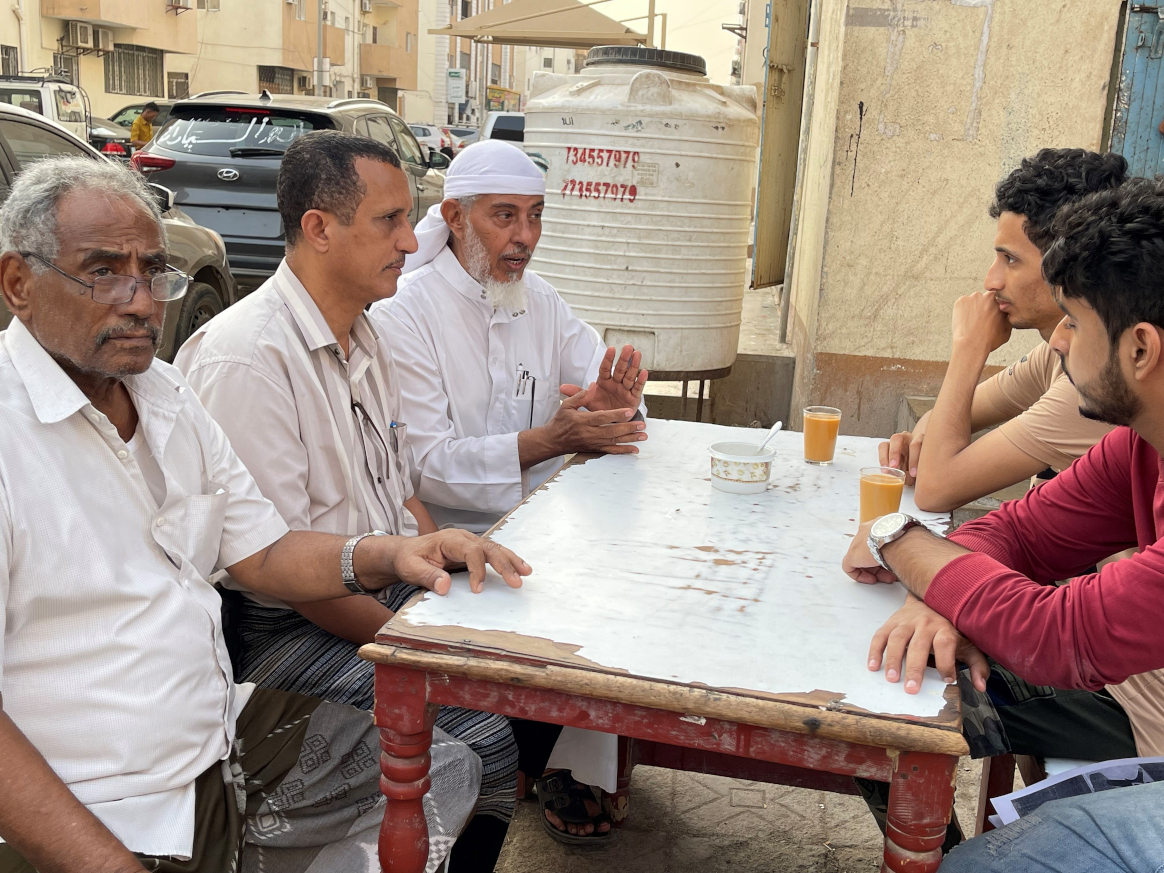 "There are many misconceptions about vaccines. Throughout my career I have been confronted by people who were resistant to the idea of vaccination. Some people think that the vaccine will make them infertile, while others believe it's some kind of a conspiracy.  However, my many years of work in immunization and knowledge of religious scriptures has proven to be valuable so far in building trust in vaccine in communities," says Dr. Nabeel.
The 'mobile Imam' is also quite adept in working with the media to promote vaccination. He is often seen and heard on TV and radio talk shows speaking about the benefits of vaccination and answering to questions from concerned parents and caregivers.
"I use a mixed approach to address vaccine hesitancy and dispel misinformation about vaccines. Sometimes it is helpful to talk about vaccines during Friday sermon, while other times, it is more effective to explain to a caller on a radio programme why vaccines are important," he explains with a smile.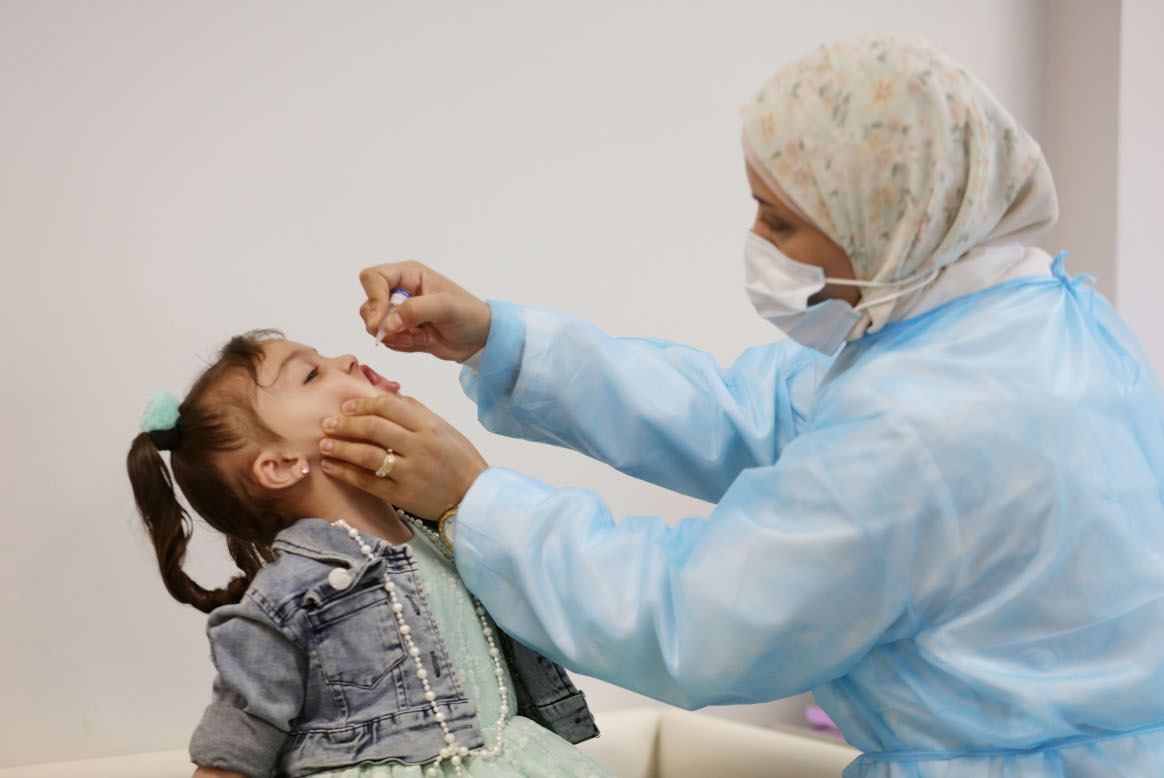 Over four days in the middle of May, parents in the governorates of Bethlehem and Jerusalem were urged to take their children under age five to health facilities for a supplementary dose of oral polio vaccine. The aim: boost immunity to poliovirus in the face of increased regional risk.
Unlike most polio campaigns in the Eastern Mediterranean Region, the mechanism for the campaign in occupied Palestinian territory (oPt) was via health facilities, rather than house to house. This can be a major ask for parents, who must organize time and transport to get children to health facilities during a relatively brief window.
Round 1, from Monday 16 May through Thursday 19 May, tested the resolve of a community that is famously pro-vaccine (routine immunization coverage across oPt is typically between 98% and 100%), but like parents everywhere, juggling work, childcare and other commitments.
While most often, mothers took their children for vaccination, in many of the health facilities where vaccination took place, grandmothers were seen supporting mothers or even stepping into their shoes.
"I brought my granddaughters today to take the polio vaccine because their mother is studying in university and their father is working," said Abeer Nasrallah, who brought Zeina (two) and Mariam (three) to El-Azariyeh, a Palestinian Ministry of Health clinic in Jerusalem governorate.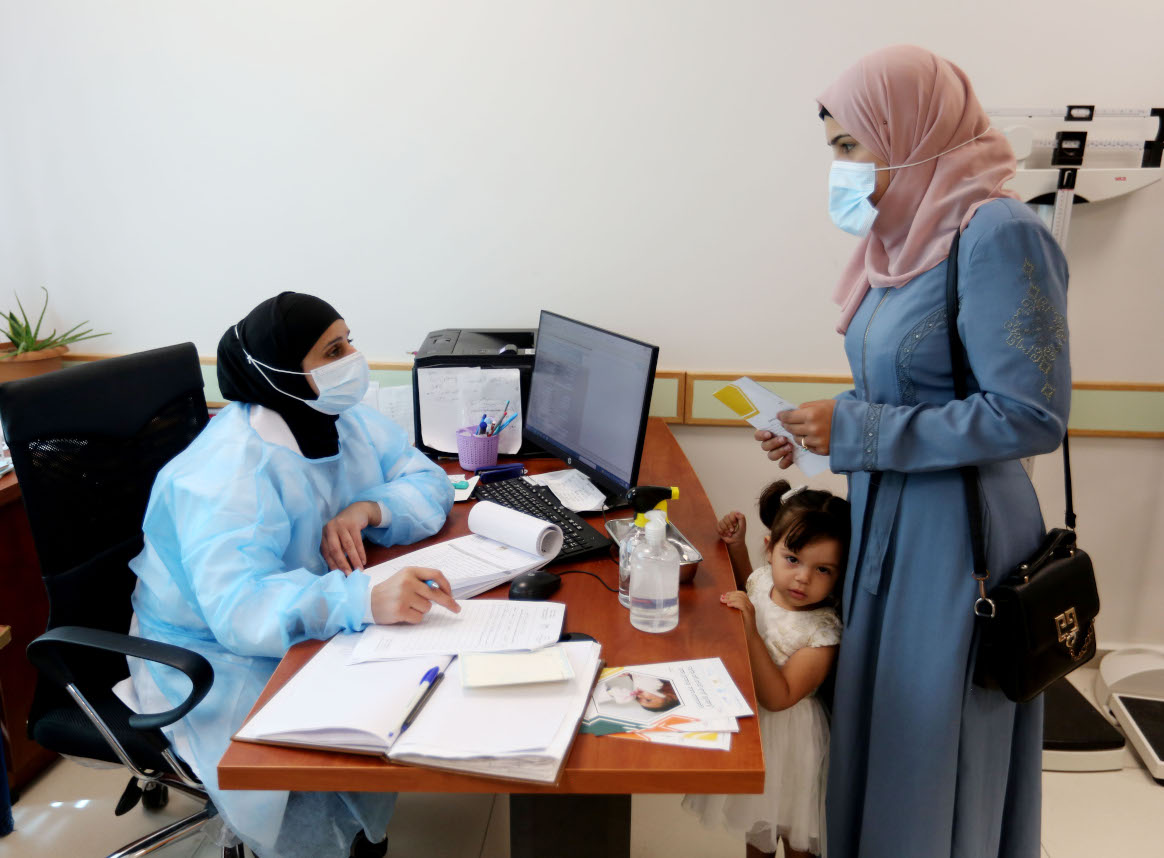 In Biddo, an area of Jerusalem governorate where the main UNRWA clinic serves both local families and those from more remote regions, a steady stream of clinic visitors climbed out of mini-buses and taxis after lengthy journeys.
"Many Bedouins come to us from remote areas like Bani Samuel and Beit Iksa, although the transportation from their areas is very hard for two reasons. First, the roads are very difficult, and second, there are a lot of checkpoints that could keep you waiting for hours," said Tamam Taha, a nurse at the Biddo UNRWA health facility.
"We have good numbers of people coming to the clinic, both refugee and non-refugees, and we give the vaccine to all of them," she said.
One of the groups she served was headed by Samar Al-Sheikh, a mother of one who arrived with three girls in tow.
"I brought my brother's daughters because he can't come. Usually, I would walk from my home, but I took public transportation today because I have three kids with me. It was hard to manage them, but it's important to give them the vaccine," she said.
In some cases, the hurdles parents faced to bring their children to health facilities were starkly visible.
Nidal Kandeel, father of Janette (three) and Jolan (21 months), arrived at Biddo UNRWA health facility on crutches.
"I got an injury in my work a year ago, and I'm now disabled for the rest of my life. It was hard for me to come to the clinic using public transportation, but I know how important it is for my children to take the polio vaccine, and this is why I am here," he said.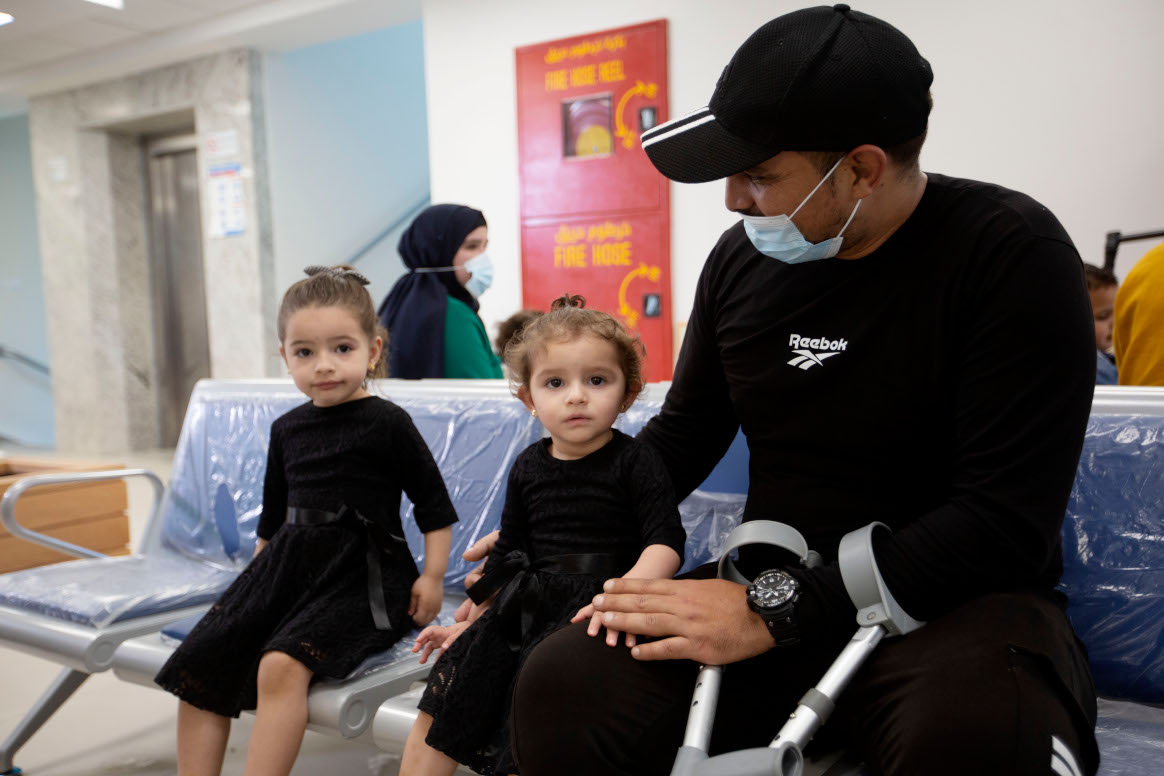 While the results of this preventative campaign are still pending, clinics promoted the campaign heavily through their own social media groups, and health workers explained that logistics aside, it wasn't difficult to convince Palestinian parents of the need to vaccinate under-fives.
 "There is a lot of demand for this vaccine. Many people have been coming since this morning to get their children to take the vaccine. In the last hour, we have vaccinated more than 100 children," said Khawla Abu Khdeir a nurse running the registration desk at El-Azariyeh.
Following the four-day vaccination blitz at health facilities, nursing teams will review registers of children vaccinated and cross-reference these with patient lists. Parents of children who weren't vaccinated will be telephoned and efforts made to reach those children through in-clinic follow-up or outreach.
Round two of the bivalent oral polio vaccine (bOPV) campaign is expected in mid to late June, with the aim of raising immunity levels in these two governorates.
Palestine has been polio-free for more than 25 years, thanks to a robust routine immunization programme and a strong culture of vaccine acceptance.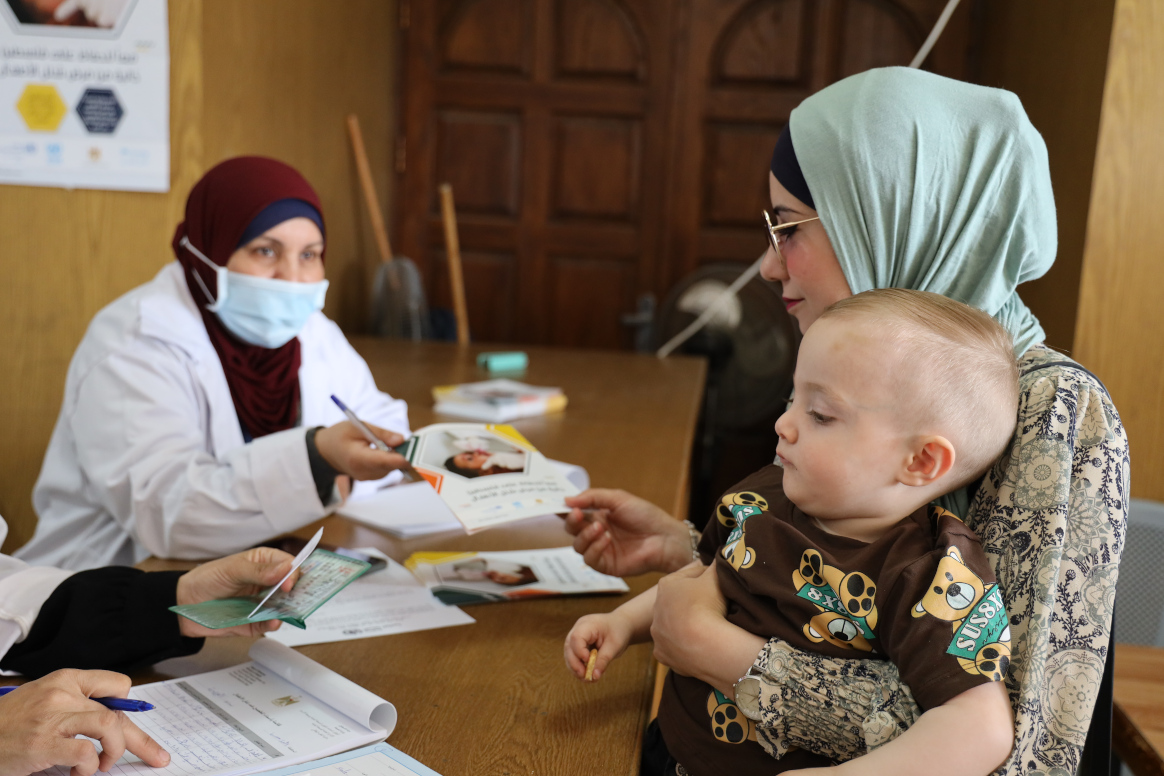 But following the detection of circulating vaccine-derived poliovirus type 3 (cVDPV3) in sewage outflow in Wadi Alnar site, a junction between wastewater coming from inside the green line with wastewater coming from Bethlehem and Jerusalem, the Palestinian Ministry of Health launched efforts to boost immunity in the areas deemed most at risk.
The campaign was carried out with support from WHO, UNICEF and UNRWA's Palestine country offices.
WHO's Palestine office provided technical support to the Ministry in planning and executing this campaign, drawing on the extensive expertise of our regional polio eradication programme.
The vaccination campaign in Palestine is part of the global effort to eradicate poliovirus, spearheaded by the Global Polio Eradication Initiative.
It is a hot afternoon in Chagai, a small community on the south bank of the River Gambia when the polio vaccination team arrives to a rapturous welcome. Children and women jump to their feet, some waving and swinging their hands as they pound their feet on the ground in near perfect sync with the beat of the drum.
This excitement is caused by one certain member of the vaccination team wearing a bush hat and playing the drums. Lamin Keita, 60, is a cultural musician supporting the vaccination team in raising awareness about polio and encouraging parents to vaccinate their children.  Lamin, popularly called Takatiti, because of one of his songs, is immediately surrounded by excited children, as he adjusts his beats to respond to the ecstasy and rigor of the dancers.
"When I arrive on the back of a pick-up truck with my megaphone and drums, children from the communities run after us in full excitement and jump up and down and ask me to play my drums," Takatiti explains.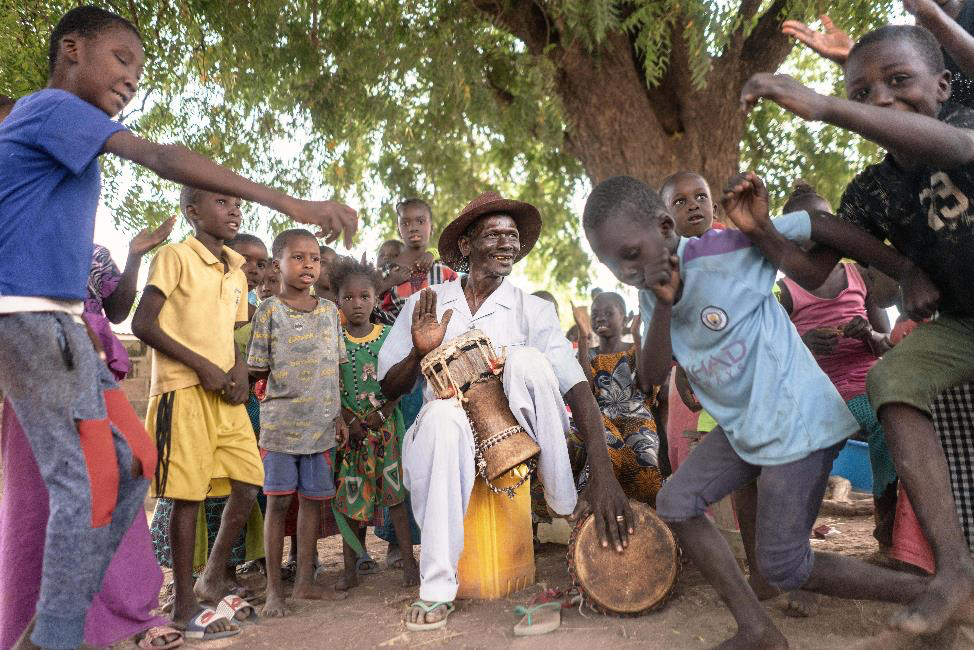 This is what Takatiti is popular for – pulling crowds with his drums to communicate important messages like polio vaccination. For almost four decades, he has toured communities in the region, accompanying health workers as they seek to persuade parents and caregivers to vaccinate their children during mass vaccination campaigns like the polio campaign.
Local voices are the most powerful voices
Building trust in vaccines among parents and caregivers is the first critical step towards achieving high immunization coverage to stop the spread of polio. UNICEF, as a leading partner of the Global Polio Eradication Initiative (GPEI) for social and behaviour change, supports the government in strengthening engagements with communities, as the voices of local leaders and influencers like Takatiti play a powerful role in helping allay fears and concerns of parents and caregivers about vaccines.
"I have been making town announcements since the mid-1980s. I am aware of polio and its terrible consequences. Families hear myths and rumours and get concerned about vaccines. As they already know and trust me, I try my best to give them accurate information and clear their doubts, so that they can vaccinate their children against polio and other dangerous diseases," Takatiti says.
"It's important to deliver messages that are supported by facts in an effective way"
Days before the start of a polio vaccination campaign and during the campaign itself, Takatiti walks up and down the streets of villages, playing his drums and using his megaphone to talk to communities about the dangers of polio, how vaccination is the only way to protect children, and that polio vaccines are safe and free.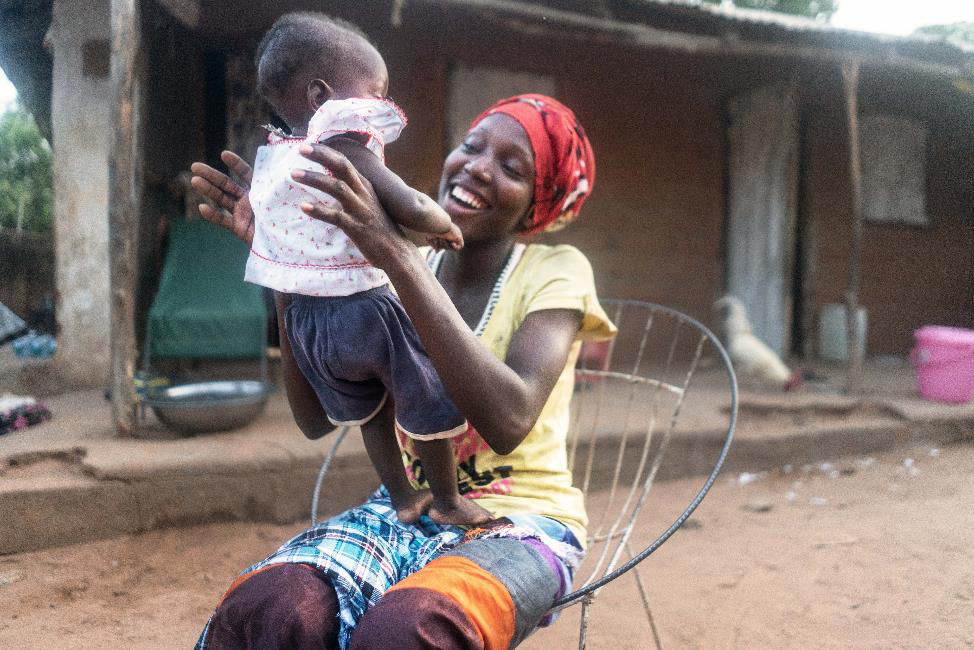 "I always try to promote peace and healthy life for all. It's important to deliver messages that are supported by facts in an effective way. The Government and UNICEF provided me correct information and facts about polio and vaccines, so I am happy to volunteer for the campaign."
A country mobilizes to stop polio
"If people trust health workers to cure other diseases, then it makes sense to trust the same health workers to protect our children from polio. Health workers even give the polio vaccine to their own children – so we should not doubt their good intentions. It is my job to let people know this truth, without offending them, and encourage them to vaccinate their kids," Takatiti said.
In August 2021, The Gambia declared a national public health emergency in response to outbreaks of non-wild variants of polio in the country.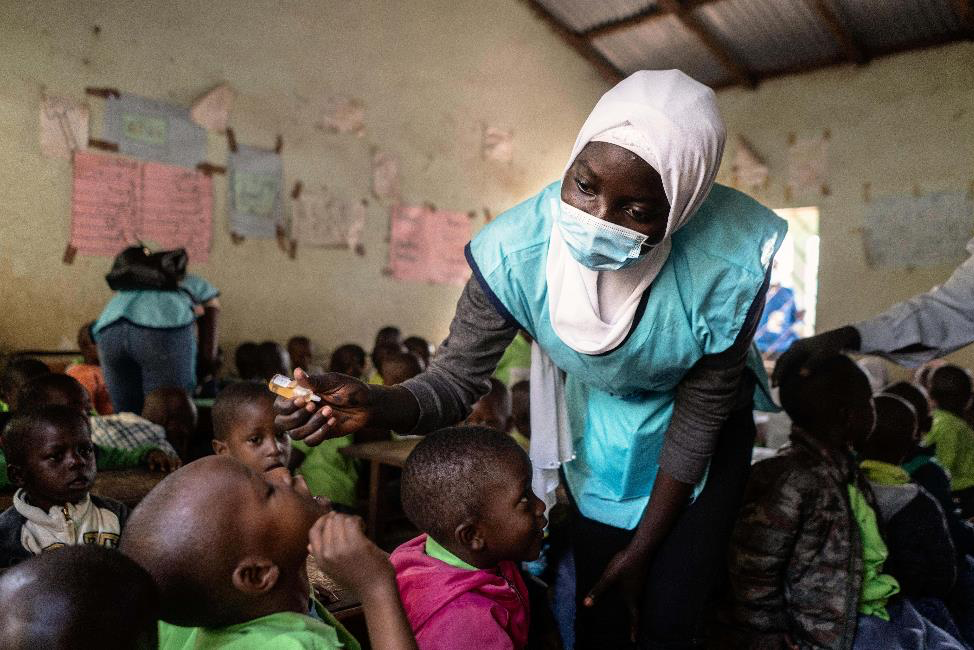 The Gambian government, with support from WHO, UNICEF, US Centres for Disease Control and Prevention (CDC)and GPEI partners, quickly responded and started preparing for nationwide immunization campaigns – managing supply and safe storage of vaccines, strengthening surveillance and monitoring, training health workers and vaccinators, and engaging with local leaders and influencers to build trust in vaccines.
The country undertook its first national polio vaccination campaign in November 2021 and followed up with a second round in March 2022.
Thanks to thousands of health workers, vaccinators, and community influencers like Takatiti, the vaccination campaigns have reached over 380,000 children aged five years and below in The Gambia.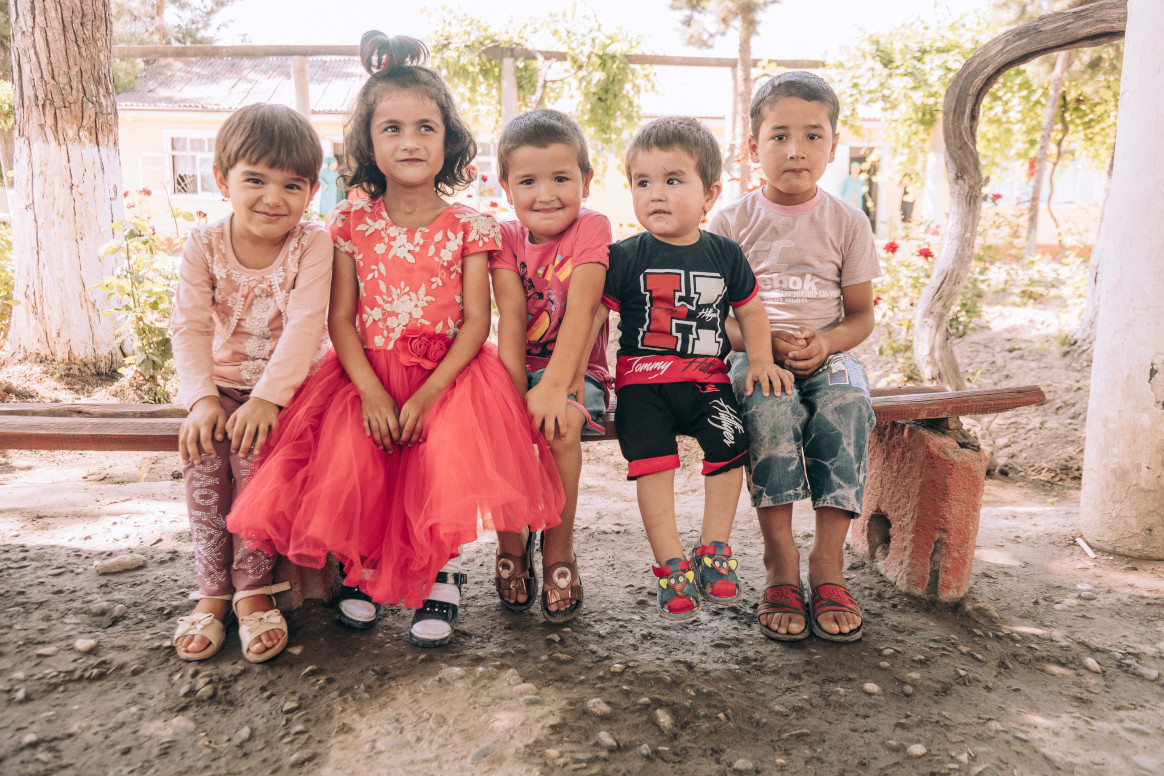 Infectious diseases like poliomyelitis (polio) know no borders. Importation and subsequent spread of the virus led to the paralysis of 34 children, and 26 others tested positive without developing symptoms of paralysis. Extensive immunization efforts began in February 2021, and no child, adult or environmental sample in Tajikistan has tested positive since August 2021.
The outbreak in Tajikistan marked the first detection of circulating vaccine-derived poliovirus type 2 (cVDPV2) in the WHO European Region. It is now the first cVDPV2 outbreak in the world to be declared officially closed following supplemental immunization using the novel oral polio vaccine type 2 (nOPV2).
The Region has been free of endemic poliovirus since 2002. Detection of just 1 case of polio – whether from a wild or vaccine-derived poliovirus – is considered an outbreak, and requires an immediate and comprehensive response.
"Tajikistan's success in stopping this outbreak is a major achievement and a clear demonstration of the highest level of political commitment of the Government of Tajikistan," says Dr Hans Henri P. Kluge, WHO Regional Director for Europe.
"This outbreak and the subsequent response came at a time when the health system was already overstretched by the COVID-19 pandemic and the country was mounting a massive COVID-19 vaccination drive. Both outbreak responses had to be done without disrupting the vitally important provision of other routine vaccines to children. We acknowledge the efforts of the Ministry of Health over the past several years, which resulted in a resilient immunization system able to successfully manage all these competing immunization priorities."
Actions taken to stop the outbreak
Following confirmation of the outbreak, the Ministry of Health and Social Protection of the Population took immediate steps, with support and guidance from WHO and other Global Polio Eradication Initiative partners. Actions included enhanced poliovirus surveillance, intensive contact tracing and a thorough review of immunization coverage at subnational levels. A rigorous risk assessment was conducted to determine the outbreak response scale and choice of vaccine, and the country rapidly completed a comprehensive verification process for readiness to use the nOPV2 vaccine.
In February 2021, a high-quality nationwide inactivated polio vaccine campaign was conducted to close the immunity gap against poliovirus type 2 among the more than half a million children born from 2016 to 2018 who had been left vulnerable as a result of global inactivated polio vaccine (IPV) supply constraints following cessation of trivalent oral polio vaccine use.
From June to September 2021, 2 nationwide and 1 subnational nOPV2 immunization rounds were implemented for all children under 6 years of age, with coverage confirmed (through external assessment) to be greater than 95%. Extensive social mobilization and communication strategies were deployed to reach groups who were at risk of being missed, including internal migrants in urban areas and unregistered children.
Assessment of the outbreak response
Several criteria must be met to officially close an outbreak, including at least 6 consecutive months in which no poliovirus is detected. The independent experts of the Global Polio Eradication Initiative who conducted the assessment in Tajikistan also looked at the performance of routine polio vaccination, the coverage achieved during the supplemental immunization rounds, and the capacity and sensitivity of the polio surveillance system to detect any poliovirus circulation.
Following the thorough assessment, which included briefings at the national level and field visits to national referral hospitals, public hospitals, polyclinics, regional and district immunization programme offices, and public health centres, the team recommended closure of the outbreak.
nOPV2 – a new chapter in global efforts to eradicate polio
Ending this outbreak using nOPV2 is an important milestone for the global polio programme. The innovative vaccine is a key part of the new strategy to stop cVDPV2s. Clinical trials show that nOPV2 is safe and effective, and more genetically stable than the traditional type 2 oral polio vaccine.
Since the rollout of nOPV2 began in March 2021, over 265 million doses have been administered across 14 countries. The majority of countries using the vaccine have also managed to stop transmission of cVDPV2; however, this is the first official closure of an outbreak to take place following nOPV2 use.
In addition to successfully halting transmission and lowering the risk of infection for millions of people, Tajikistan contributed to global research on nOPV2 with the support of WHO through an nOPV2 immunogenicity study. The country also participated in a global vaccine wastage study.
Dr Pascal Mkanda, Director for the Polio Eradication Programme in the World Health Organization's Regional Office for Africa (AFRO), also famously known as our 'villager in polio', is this month (February 2022) entering a well-deserved retirement.  Pascal's contribution over the years to polio eradication in Africa, and indeed broader immunization, is second to none.
Under Pascal's stewardship and leadership, wild polioviruses were successfully eradicated from the continent, the polio infrastructure integrated into broader public health efforts, new technologies and innovations for reaching the most marginalized children established and new vaccines successfully rolled-out.  His expertise, knowledge, dedication, zeal, and passion to work and more importantly his mentorship to fellow colleagues and health workers to alleviate the lives of vulnerable children across the continent, will be sorely missed.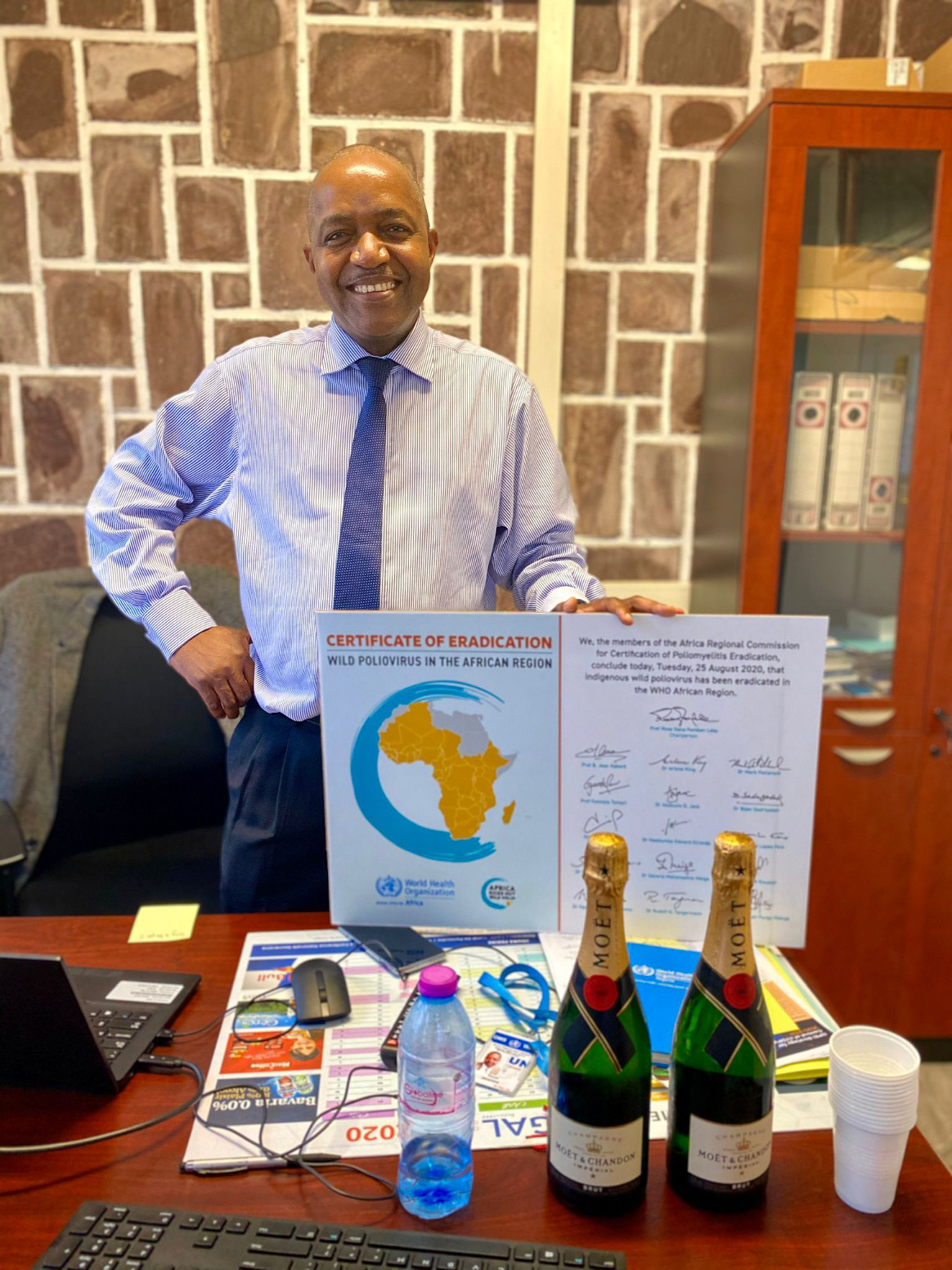 "I have worked with Pascal for close to 7 years, and during that time, I have witnessed first-hand Pascal's dedication, and what he often refers to as 'tough' decision making, which we owe to the successes we have seen in the polio program" said Dr Matshidiso Moeti, WHO Regional Director for Africa." My first interaction with Pascal was during the first meeting for Program Managers in the region, in Johannesburg, South Africa, in 2016. During this meeting Pascal expressed very passionately that the only way we can get results in Polio is by holding everyone accountable. To use his words, global health, very much like soccer, requires a coach to put his best players on the field.  Throughout the continent, children are healthier and better protected from infectious diseases, most notably of course from polio, thanks to the tremendous efforts and tireless work of Pascal.  This continent owes a huge debt of gratitude to Dr. Mkanda. On behalf of all mothers of Africa, I can simply only say one thing:  Thank you, Pascal!"
"Rotary and Rotary members across Africa have been at the forefront in the fight against polio since President Nelson Mandela shouted his rallying call in 1996 to 'Kick Polio Out of Africa'," according to Dr Tunji Funsho, Chair of Rotary's Nigeria National PolioPlus Committee and one of TIME Magazine's 100 Most Influential People in 2020.  "We went from 75,000 children paralyzed each year, all over Africa in 1996, to Zero wild polio cases since 2016. An unparalleled public health achievement, which could not have happened without Pascal's leadership, engagement, and expertise. On behalf of Rotary members across Africa, Pascal – thank you so much for everything that you have done.  We all wish you a more than well-deserved retirement."
"I can only echo what others have already said," commented Professor Rose Leke, Chair of the African Regional Certification Commission, which independently certified Africa as wild poliovirus free in 2020.  "It was my great honour, and together with my fellow Commission Members, to certify our continent free of all wild polioviruses.  Dr Mkanda and his team across the continent were absolutely instrumental in this. As Director of Polio in the Region, he exhibited great leadership. He and his team helped us verify the absence of wild poliovirus, even from the most inaccessible and remote areas of Africa.  They helped ensure that children everywhere, no matter where they lived, were reached with the life-saving polio vaccine.  Dr Mkanda demonstrated truly the best of Africa.  All I can say is a tremendous 'thank you' to him and his team. I wish him well in all his future endeavours."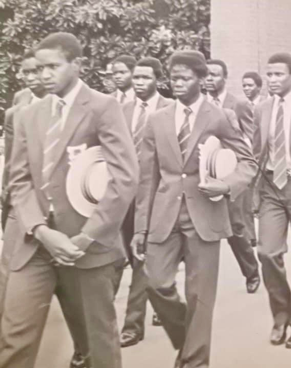 Dr Mkanda's career started from humble beginnings in a small and remote village, Chintheche in northern Malawi, with virtually no infrastructure. Pascal, son of a stay-home mother and a primary school teacher in Nkhata Bay, started making 'tough decisions' very early in life. At a tender age of 13, he and his elder brother Justin left their home on foot, and walked 18 miles with no shoes, to look for what would eventually be their family's home in search of a better education for him and his siblings.
This was only the beginning of the 'tough decision making' that Dr Mkanda is well-known for today. The young Pascal Mkanda continued with his education and was eventually identified as his district's best performing student. At the time, the president of Malawi, His excellency Dr Hastings Kamuzu Banda, had initiated a programme offering the brightest pupils (top 2.5%) from each district in Malawi irrespective of  sex or socio-economic status, the opportunity to attend higher education, at the prestigious Kamuzu Academy, and through this educational opportunity, Dr Mkanda performed exceptionally and was awarded a full sponsorship to study Medicine in the United Kingdom where he attained a medical degree at the Imperial University College London.
To just show how intelligent he was – Pascal was afforded an opportunity to also study for a degree in microbiology/infectious diseases at the London School of Hygiene and Tropical Medicine while at the same time pursuing a degree in medicine. In later life he went to the Rollins School of Public Health at Emory University in Atlanta, USA, and obtained a Master of Public Health.
Putting his theoretical knowledge into practical experience, it was not long before Dr Mkanda began making a very real impact on Malawi's public health system, improving the health and lives of remote communities.  He rapidly developed a reputation for solid, practical and effective work. Here he developed the traits that would characterize his entire career and for which he became so respected:  the courage of standing up for his convictions; an ability to identify and promote new and excellent talent, that would help him establish relevant and pragmatic support teams across the region; a fearless dedication to step out of group thinking even if it meant standing alone against adversity; and, an absolute and unwavering commitment to achieving results.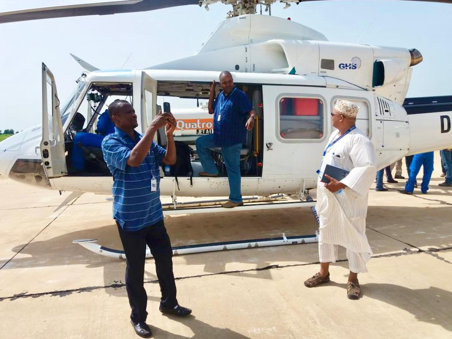 Respected by peers and more importantly communities themselves, he rapidly caught the attention of the international development community while working in some of the most remote communities in Malawi. During a visit by the USAID Mission in Malawi to Nsanje District Hospital in the south of Malawi, Dr Mkanda's work caught the attention of the Country Representative who immediately recommended him for a USAID-sponsored Global Health Programme which subsequently led to the beginning of his international career.
Starting out as a National Programme Officer in Malawi for the World Health Organization, and moving on to Zambia as an international staff, he met and established a long-term friendship with Dr Francis Kasolo (former VPD Regional Virologist). By the year 2000, Dr Mkanda was managing immunization activities for Eastern and Central Africa and would eventually lead polio activities in Nigeria and Ethiopia.
It was during his time as WHO Polio team leader in Nigeria and Ethiopia that these countries were able to make significant inroads in interrupting wild polio transmission. One contributing factor for this achievement was the introduction of the famous accountability framework that held every staff accountable for their work with those underperforming being replaced by "fresh legs on the football field", in Pascal's own words.
It was therefore not a surprise that when the position of WHO African regional polio coordinator was advertised, that Dr Moeti – then the new Regional Director for Africa – appointed Pascal to lead the fight against this disease in the Region.
Never losing focus on the need to reach every last child with polio vaccines, with support from Dr Moeti and the Bill and Melinda Gates Foundation, Dr Mkanda established a regional center for the Geographic and Information Systems (GIS). According to Dr Joseph Cabore, Director of Programme Management at WHO's African Regional Office: "One very critical contribution by Pascal to the regional office, is the introduction of innovative technologies and solutions. It's amazing to see in real time, where our frontline workers can reach during mass campaigns and outreach activities. Pascal, thank you for ensuring that we remain accountable to our African children and their families."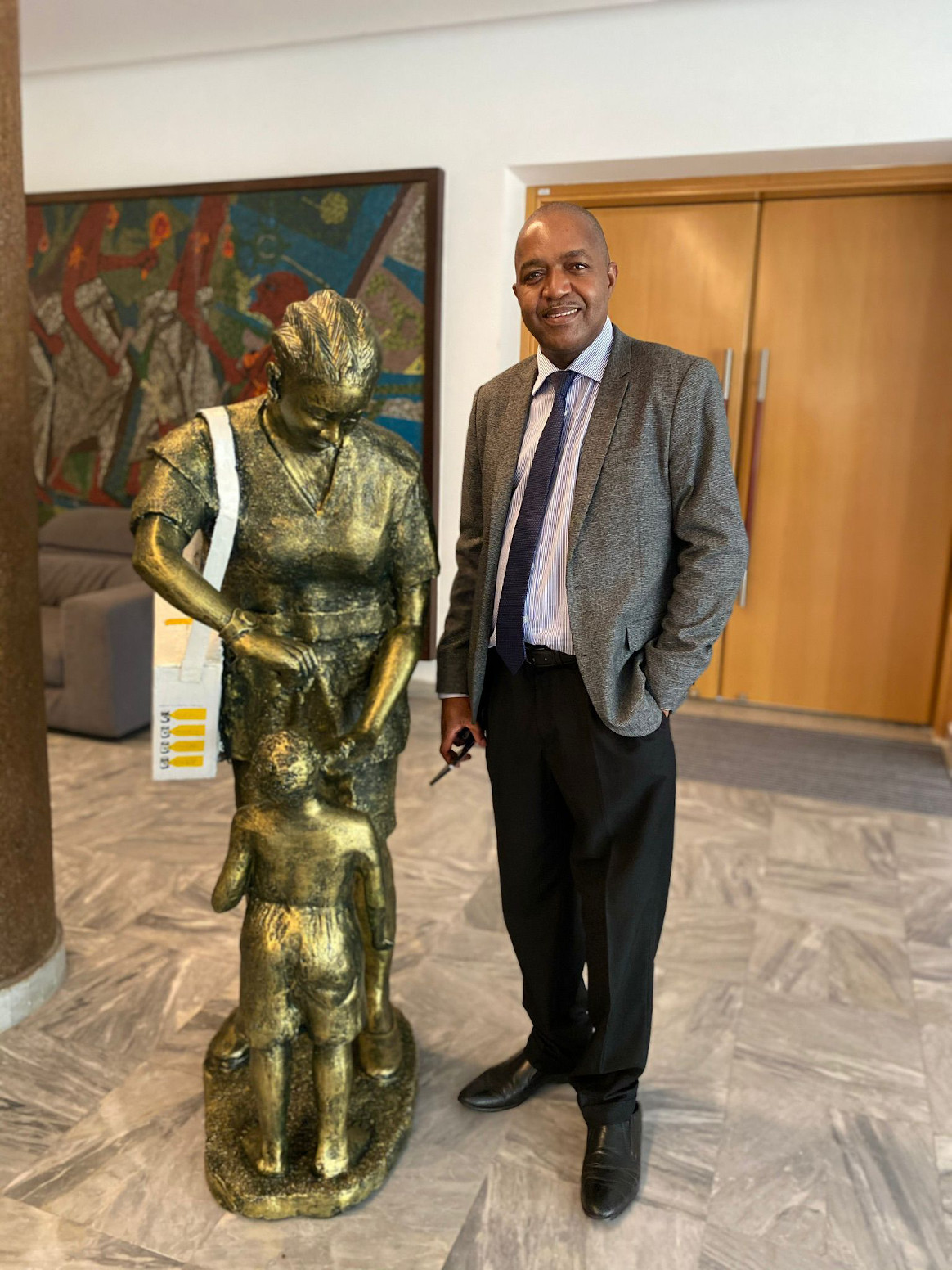 "It has been a privilege to work alongside Dr. Mkanda in pursuit of a polio-free world," said Dr. Chris Elias, President of Global Development, the Bill & Melinda Gates Foundation. "His commitment and dedication to eradicating polio have been vital to helping protect millions of children from this debilitating disease and helped achieve a WHO African Region that is now free of wild polio – a monumental achievement in global health. I am forever grateful to Dr. Mkanda for his work and partnership on ending polio."
Michael Galway, Deputy Director Polio at the Bill & Melinda Gates Foundation, added this personal comment: "Working with Pascal over the past decade has been one of best parts of the job in helping to get rid of polio in Africa. I've always appreciated the passion and conviction he's brought to the work, and his keen understanding of how to get the polio programme to perform at its best in some of the most difficult places. He's been a role-model and a friend, and I'm grateful for both!"
It was in Nigeria – for a long time the global epicentre for polio – that Pascal's leadership really came into its own.
Dr Faisal Shuaib, Executive Director of the National Primary Healthcare Development Agency in Nigeria, said: "Pascal Mkanda's contribution to making Nigeria free of wild poliovirus cannot be overstated.  It took innovative strategies and approaches to ensure that every child could be reached, and virus transmission effectively tracked, in hard-to-reach and inaccessible areas. Pascal helped develop and trailblaze novel approaches which ultimately led to our success.  It really took rewriting the strategic rulebook, and these approaches are now being implemented in other high-risk polio areas.  All for the benefit of the most marginalized children.  Thank you, Pascal, we could not have done it without you and your leadership.  We will miss you!"
Indeed, it is this same leadership by Dr Mkanda that led to the establishment of the Rapid Response Team (RRT), coordinated by Dr Ndoutabe Modjirom in the WHO Regional Office in Brazzaville to tackle the remaining form of polio, the circulating vaccine-derived polioviruses (cVDPVs): "Pascal, you are leaving big shoes to fill. We will need your kind of leadership to end all remaining forms of polio in our region once and for all. It will not be easy to finish this job without you."
Pascal will be missed, as underscored by Aidan O'Leary, Director for the Global Polio Eradication at WHO Geneva. "On behalf of all partners and stakeholders, the Global Polio Eradication Initiative wishes you all the very best in your retirement and/or in your next chapter of life.  We know of course that you will stay engaged in one capacity or another in this fight, and we look forwards to one day, very soon, to celebrate together with you the victory over all forms/types of polio worldwide once and for all.  A big thank you, in particular for your leadership in certifying the Region free of wild polioviruses and for facilitating the introduction and roll-out of novel oral polio vaccine type 2."
Congratulations on your retirement! Now you'll have more time for sleeping in, fishing, reading, golfing and if you want to be a DJ-from G22, where it all started!
Shine on, le Mystique Dr Mkanda!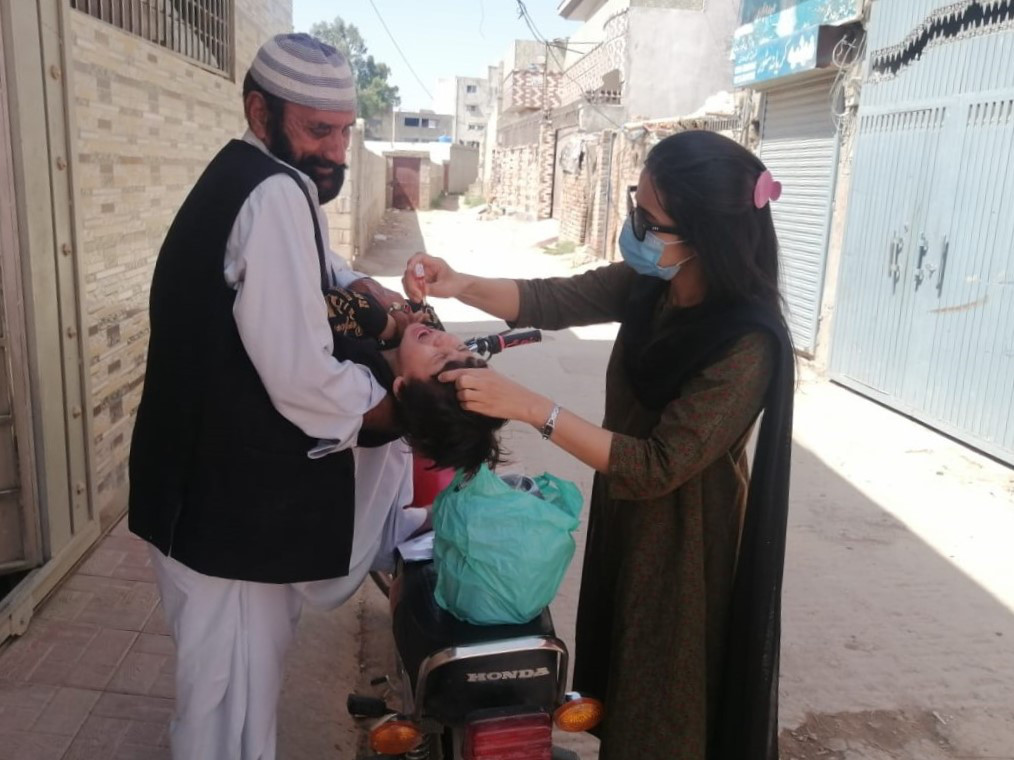 Dr Nida Ali joined the Polio Eradication Programme in her native Pakistan in 2017. A graduate of the medical faculty at Hamdard University in Karachi, she reflects on her time with the programme, the role of women and the eradication of polio in one of the last countries where it remains endemic.
I worked for the polio programme in Pakistan for four years and 10 months. It wasn't easy – but then, what is? I look back at those long years and cry at the times when I laughed and laugh at the times when I cried. The programme gave me lot: exposure, experience, learning opportunities, knowledge, skills, and excellent colleagues from whom I learned a lot. But the ultimate gain was, of course, the children in my own country, including my son, who took polio drops in every polio immunization campaign.
I joined the programme in 2017, as Polio Emergency Response Officer in the provincial office in Punjab.  I'm originally from Rawalpindi and before joining the programme, I worked on a government-led Reproductive Health programme which sparked my interest in public health.
I'd read about polio as part of my paediatrics study at medical school but I didn't see a case of polio until I joined the programme.  It was WPV (Wild Poliovirus Type 1) and it was in Punjab, a very small child who wasn't even a year old. The second case I saw was a case I investigated when I was working as a Polio Eradication Officer in Islamabad. All the signs were there – the child lived in a very densely populated household where the hygiene conditions weren't good, in a part of town where a lot of travellers were coming and going. He'd also been what we call a 'refusal', meaning that his caregivers had refused to allow him to be vaccinated. I examined the child and it was a classic case of Acute Flaccid Paralysis, or AFP, one of the signs that the virus may be circulating in the community. The ankle reflex was present but the knee reflex was lost. We sent samples to the laboratory and it was declared as a positive case of polio.
I held a number of roles during my time with the programme – Area Coordinator, Rapid Response Officer, Divisional Surveillance Officer – and I was fortunate enough to travel to other provinces. I went to northern KP (Khyber Pakhtunkhwa) to respond to a WPV outbreak, and to southern KP and Gilgit-Baltistan for post campaign monitoring. I learned some phrases of the local language in northern KP – how many children do you have in the house, the numbers from one to ten, how many children are vaccinated, can I see their finger mark – phrases that helped me make a connection with mothers and understand their responses. I also used to take out my phone and show them photos of my son – he was four years old at the time – and tell them that he takes the polio drops in every campaign. It was great to make such a human connection and I was able to convince many refusals that way.
Seeing the programme at field level gave me great insights but so did working at the National Emergency Operations Centre (EOC) in Islamabad. It's where all the work and knowledge comes together, and where staff from all the different the provinces come so it was a great opportunity to meet them and exchange experiences.
Women make up around 40 percent of the polio programme but mainly as frontline workers who go from house to house to vaccinate millions of children across the country. There aren't so many women at higher levels, often because women don't apply for these positions, which is a shame. On many occasions I found myself to be the only woman in a large meeting room, particularly the meetings where policies and protocols are discussed. I think the presence of more women in leadership roles will bring an interesting perspective to the programme, particularly given our roles as mothers and caregivers.
Today I'm in Atlanta, studying Global Health at Emory University. It was my experience with the polio programme that helped me get through all the stages of obtaining scholarship and a placement in such a reputed University. This is an interesting opportunity of learning from the experts, which again, is not new to me as this is exactly what I've been doing at the polio programme in Pakistan. I'm not sure where this will lead me – back to polio or to another part of public health, I don't yet know. All I know is that I will go where my expertise leads me.
I hope one day I can tell my son the story of how polio was eradicated and how no child will ever be paralyzed by this virus again. I hope by that time, we direct our resources for protecting children from other diseases or, even better, to curb the infections that have potential to lock the whole world down.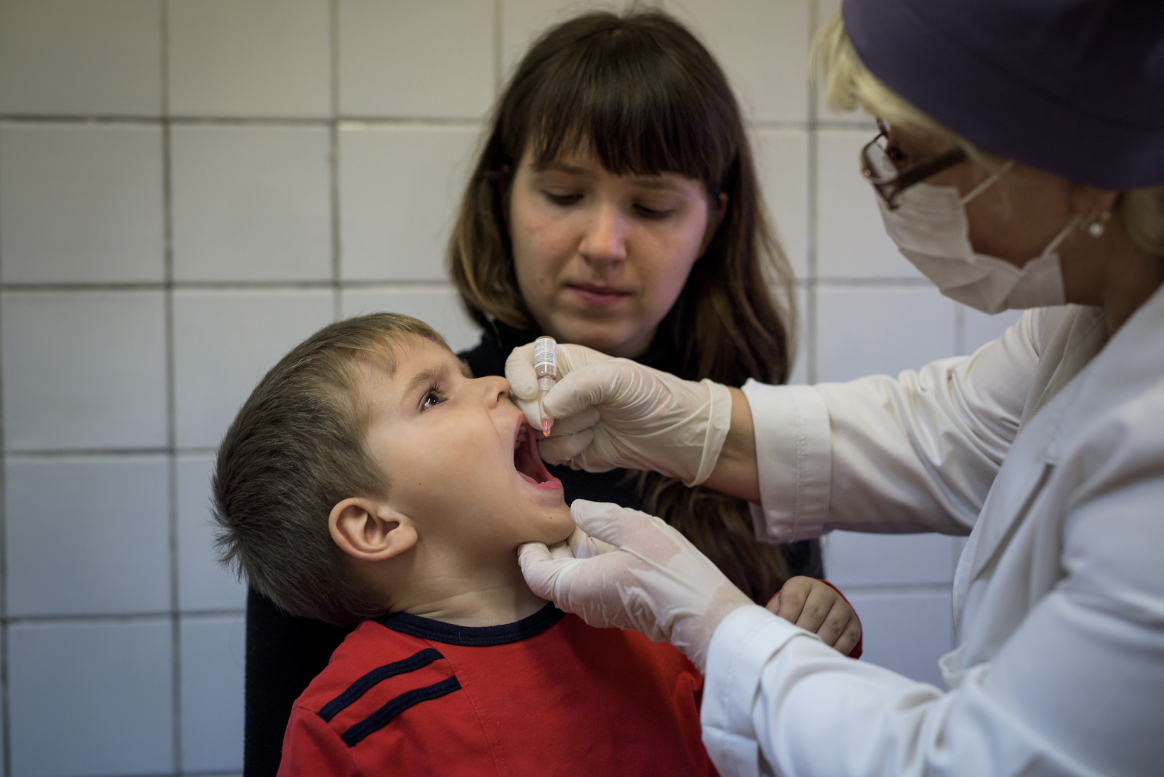 A poliomyelitis (polio) vaccination campaign for children aged 6 months to 6 years who missed routine polio doses in the past will begin in Ukraine on 1 February 2022. This catch-up campaign is part of a comprehensive response to stop an outbreak of poliovirus first detected in Ukraine in October 2021. This first stage will last 3 weeks and is expected to reach nearly 140 000 children throughout the country.
Years of low immunization coverage in Ukraine have created a large pool of unvaccinated or under-vaccinated children who are vulnerable to polio. While routine immunization coverage has gradually increased over the past 6 years, in 2020, only 84% of 1-year-olds received the required 3 scheduled doses of polio vaccines by 12 months of age.
The immediate goal of the campaign is to reach the WHO-recommended level of 95% vaccination coverage of eligible children.
Background
The polio outbreak in Ukraine was confirmed on 6 October 2021. Poliovirus (circulating vaccine-derived poliovirus type 2) was first isolated in a 17-month-old girl in the province of Rivne who developed acute flaccid paralysis. Analysis of all her contacts found that 7 household contacts (siblings) and 8 community contacts in Rivne as well as 4 cousins in the province of Zakarpattya (who had had contact with the girl's siblings) also tested positive, but did not develop paralytic symptoms.
A second case with acute flaccid paralysis (a 2-year-old boy in the region of Zakarpattya) also tested positive for poliovirus, with onset of paralysis in December 2021.
The isolated strain of the virus found in both paralytic cases and their contacts is linked to a poliovirus in Pakistan, which was also the cause of several cases in Tajikistan in 2020–2021.
Comprehensive plan to stop the spread of poliovirus
Following an initial local vaccination campaign, conducted where the first case was detected, a comprehensive polio outbreak response plan was approved by the Ministry of Health in December 2021.
The first stage of the plan will provide inactivated polio vaccine (IPV) to children aged 6 months to 6 years who have not received the required number of doses. In the second stage, all children under the age of 6 will be vaccinated with oral polio vaccine (OPV), even if they have received all their scheduled vaccination doses. This is necessary to protect children from infection and to stop the circulation of the virus. Dates for the second stage are pending.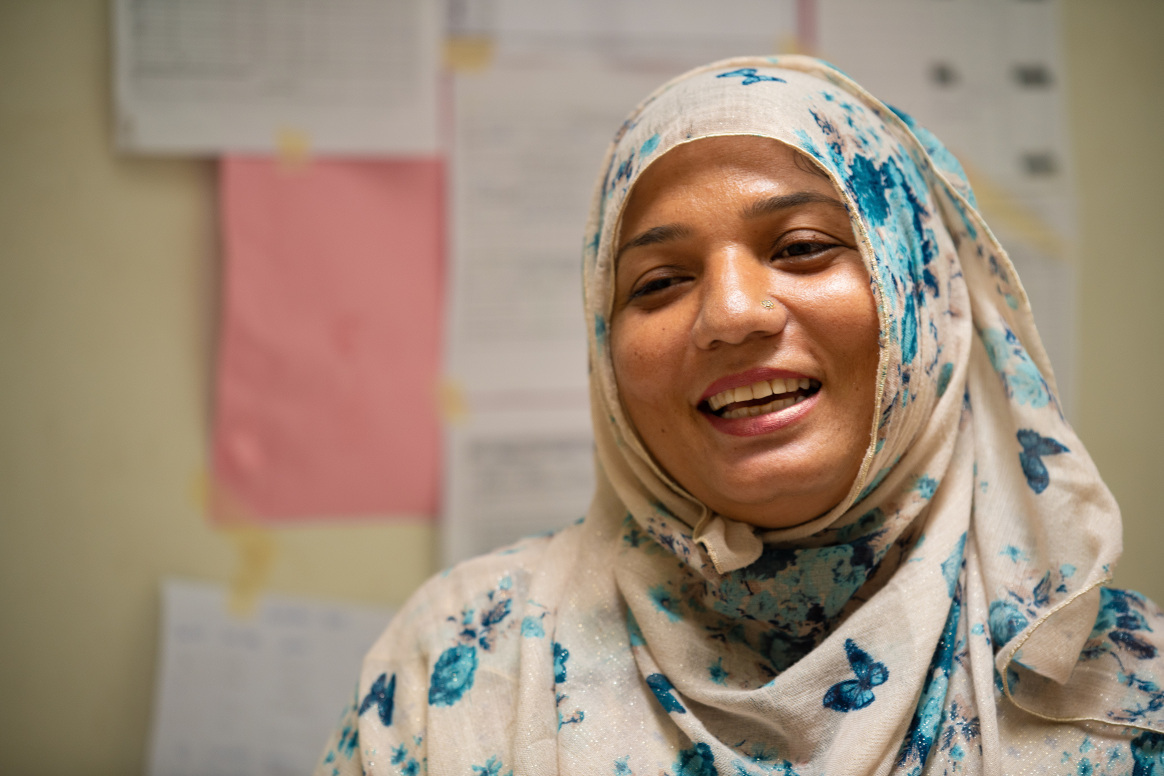 Contracting the infectious virus at 11 months of age, few believed Soni would ever be able to work. Today, she's a nominee for one of Pakistan's most prestigious awards.
Soni started out in the programme in 1999, initially as a vaccinator. Now a mother of three children, these days, Soni works with the programme as a social mobilizer. Her role includes dispelling people's misconceptions about the vaccine and engaging with parents about the importance of vaccinating their children.
When Soni received a notification from the Government of Pakistan that she had been selected for a Presidential Pride of Performance award, which honours individuals who are extraordinary in their field of work, she didn't quite know how she felt. "I'm not really interested in accolades, but my son and my husband were very excited" she said.
Soni says her work with the polio eradication programme has given her life meaning and purpose. "People would look at my leg and say, 'How will she work?! She can't work. But when I started working, then everyone could see, 'yes, yes she can'," she says.
"The polio programme has given me so much confidence. After I started working in polio, I had the confidence of meeting new people. Meeting family, going to weddings, all of it became easier. Before that, I had no confidence to even step out of the house," she continues.
Soni recalls how hesitant her father was when she first told him she wanted to join the programme. "He was concerned I won't be able to manage because of my health, but he understood very soon that this was something I just had to do. He told my mother 'let her do it'."
During her early training as a vaccinator, Soni recalls the words of one of her trainers – 'If you can save one child from polio, then you would have served the purpose of your life'. "I knew, then, this was it, "she says. "This is what I had to do."
The year Soni was diagnosed with polio – 1984 – nearly 200 other children in her neighbourhood of Liaquatabad in Karachi were also diagnosed with the virus. At the time, there were no door-to-door campaigns and children could only be vaccinated at health centres.
Today, Pakistan and Afghanistan are the last two countries in the world where wild poliovirus is endemic. In 2021, only one child was paralyzed by the virus in Pakistan and four in neighbouring Afghanistan. In 2020, a total of 84 cases were reported in Pakistan and 56 in Afghanistan.
The eldest of six siblings, Soni came from a very conservative family, where her grandmother would not let children leave the house. "In our family, all the children were born at home because the women were not allowed to leave the house, and so I was never taken to a health centre for vaccination."
"My father always lived with the regret of not vaccinating his daughter," she says. "Often parents make these decisions, and it is the child who has to suffer for all their life."
Both Soni's parents tried everything they could to heal her condition – visiting different doctors, acupuncture specialists, and anyone they could find who might offer any assurances. She also went through a very extensive operation, with steel bolts put in her leg resulting in excruciating pain that lasted for months.
"No matter what you do, whatever you try, there is no cure for polio," she says. "I wanted to study sciences, and my teacher didn't allow me to because she would say how will you stand in labs all day. I would go to college and one of the women in the bus would see me and say 'Look at her, such a beautiful girl and look at what happened to her foot'."
Soni says that when she is working on campaigns and some people see her, they immediately want to vaccinate their children, while others question why she is telling them to vaccinate while having polio herself.
"To them I say, I am here because I know exactly how hard it is if you are not vaccinated."
Reposted with permission from Gavi.
Anand Kumar learned to walk later than other children. When he did, he walked with difficulty, dragging his right leg. He was around three years old when his parents reached out for a diagnosis. "I'm sure that they tried all the doctors in Bangalore to just get it corrected. But the thing was: couldn't do it," he says.
His route to being an athlete was not remotely expected when he was a toddler. The doctors' verdict ruled out recovery. Kumar had suffered irreversible damage to both his right arm and right leg as a result of an infection with poliovirus during infancy. He was unlucky: in most babies, the disease would have passed all-but-unnoticed, mistakable for a bout of the flu. But approximately one in 200 poliomyelitis patients suffer permanent paralysis. Around 5 – 10% of people paralysed risk dying if the muscles in their respiratory systems are immobilised.
Although the world's first safe and effective polio vaccine – the Oral Polio Vaccine (OPV)1  – had been introduced decades before, and countries like the USA were newly polio-free, in the early 1980s, just 2% of India's children had been administered the recommended three doses. During 1981 alone, India recorded more than 38,000 polio cases. The real tally may have stood much higher: researchers have pegged the actual incidence during the 1980s at closer to 200,000 cases a year.
By 1990, the annual infection figures were in decline. But the trend towards zero cases was halting, and jagged. In 2002, India's depleted but persistent polio case-load jumped six-fold. A year later, India was home to 83% of all the new polio cases in the world. Uttar Pradesh alone, the vast and troubled northern state in which UNICEF had recently been obliged to launch a social mobilisation scheme to counter vaccine hesitancy, accounted for 64% of the world's polio burden. The Global Polio Eradication Initiative redoubled its immunisation efforts, but as certain leading anti-polio campaigners would later admit, to some onlookers, the challenges of elimination in India looked at times simply too steep to surmount.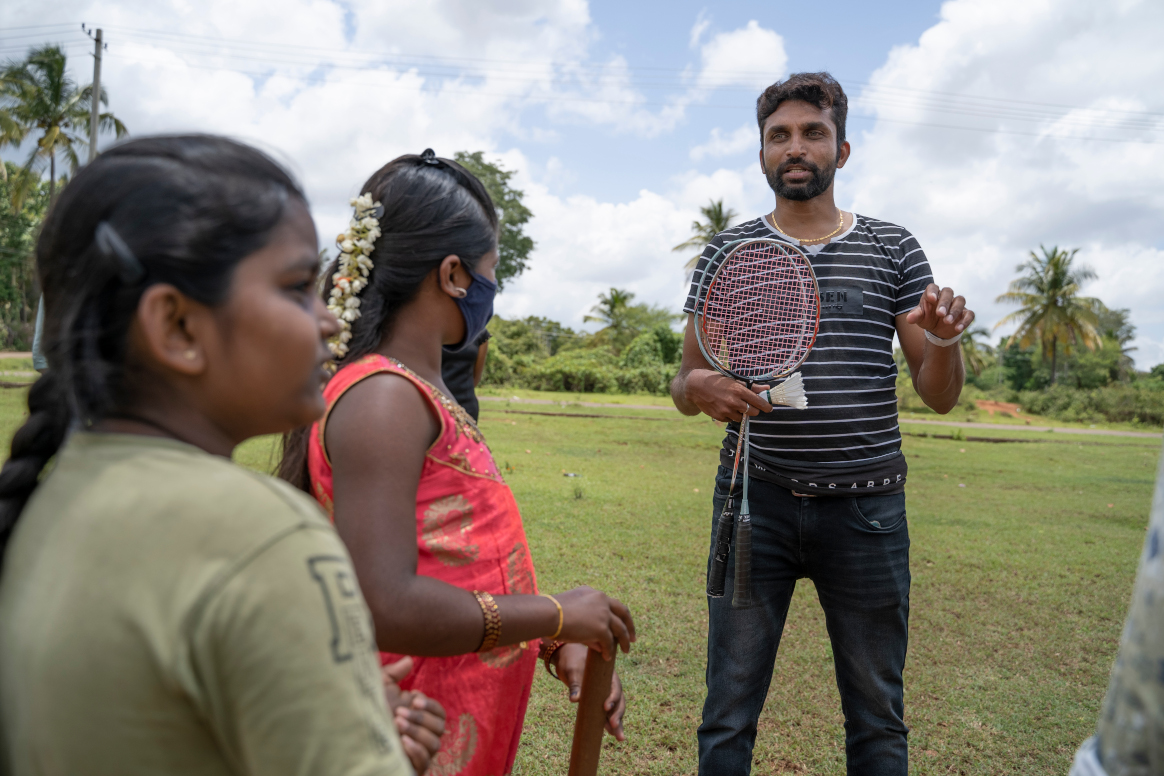 Meanwhile, in the late 1990s, Anand Kumar was leaving school for college with the frustrated awareness that he had been passed over. "Due to my disability, I was not active like other kids, so I was not taken into consideration for cultural activities or sports," he says. "I was feeling that I was missing something."
As such, he found his way to badminton late: aged nineteen, years too old to be taken on as a beginner by the coaches he approached for training, but newly cognisant of the existence and possibilities of para-sport. He  watched the coach at his local club from the bleachers – "luckily, the coach was a left-hander, and I'm always a left-hand player" – then practised the technique he observed on the court on his own. He improved quickly, began beating his able-bodied opponents.
In 2001, he was invited to represent India at a para-badminton tournament in Germany. "I thought, okay: I'm defeating the able-bodied players – and I can defeat the disabled players also." Instead, he lost every match. Looking back, he calls it "a very good experience." That was the year he decided to practice "most seriously."
Success, Anand Kumar earnestly points out, has not come easily. "I have had to prove myself in each and every field," he says. He meets young players inspired by his achievements – some 110 medals, including an Asian Games bronze, a BWF Para-Badminton World Championship doubles gold and a prestigious Ekalavya sporting award – "but I always like to share my other part of the story – which was very difficult, in which I struggled hard to come to this level," he says. "Like, I started in the year 2001 to play an international tournament, but it took 15 long years to be a World Champion".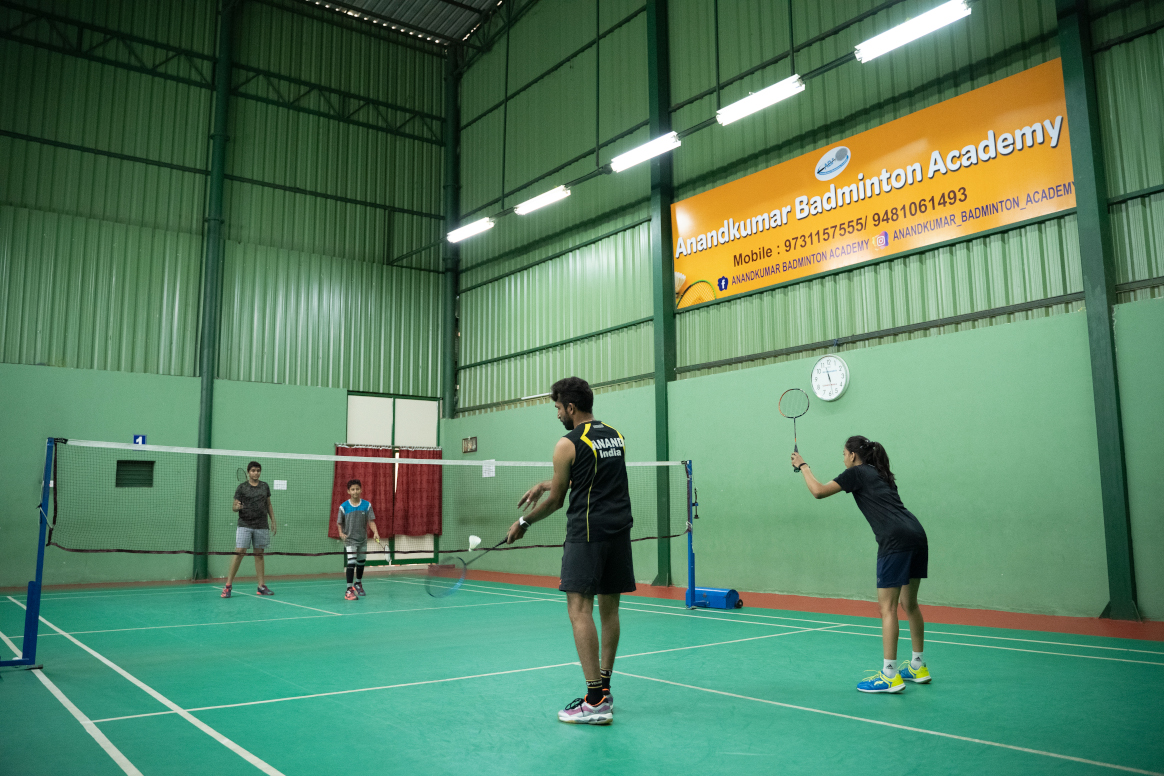 That struggle has only been incidentally shaped by his disability, he clarifies. "Life is always challenging, whether it's in an able body or a disabled body," he says. The message he shares with the students he now coaches at his own Academy, able-bodied and disabled alike, is to take up life's challenge with determination – put simply, to never give up.
Likewise, it took a number of tacks and switches to drive down polio in India – the introduction of improved bivalent polio vaccine in 2010; the institution of rolling vaccination at strategic transport hubs; hand-washing and sanitation campaigns to tackle the diarrhoea epidemic that was found to be weakening polio vaccine effectiveness, to name just a few – but in 2012, India finally arrived at zero polio cases.
"Today we are calling India polio-free," Kumar says. "It's only because of vaccination." He's right. But he'll also tell you that no victory is ever quite that straightforward.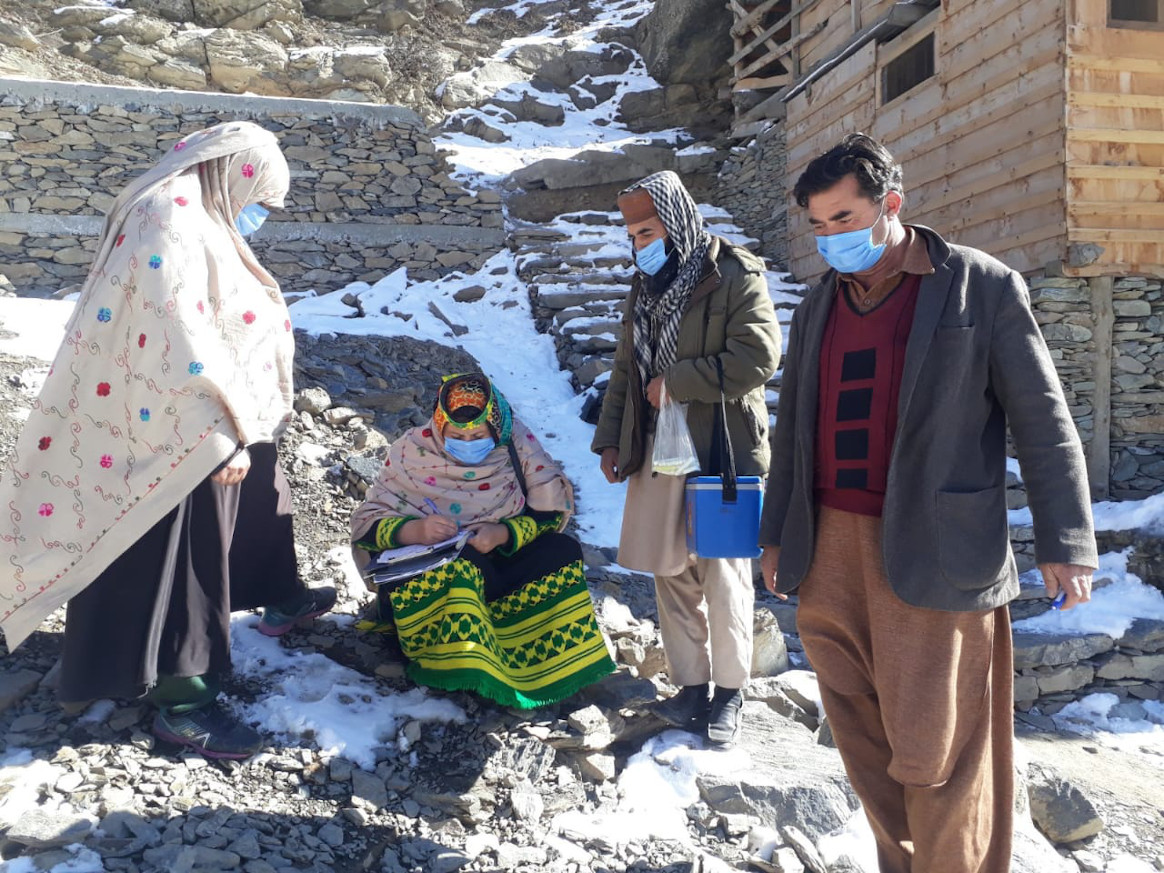 Health interventions and immunization activities are most effective when delivered by women.  During each nationwide polio vaccination campaign in Pakistan, women make up around 62 percent of the 280, 000+ frontline workforce vaccinating millions of children across the country.
With each campaign depending on the dedication of staff to reach all children, given their trusted roles and responsibilities in communities, female polio frontline workers are playing a key role in eradicating polio.
Breaking barriers to immunization
After three years as a monitor of campaign activities, Zubaida Bibi has progressed from being a polio team member to a team leader in Khyber Pakhtunkhwa province in the country's north, one of the most affected areas in Pakistan.
Breaking the gender-related barriers to immunization, Zubaida travels extensively including hard-to-reach areas. Not even the winter season, when the roads and tracks are covered with snow, deters Zubaida.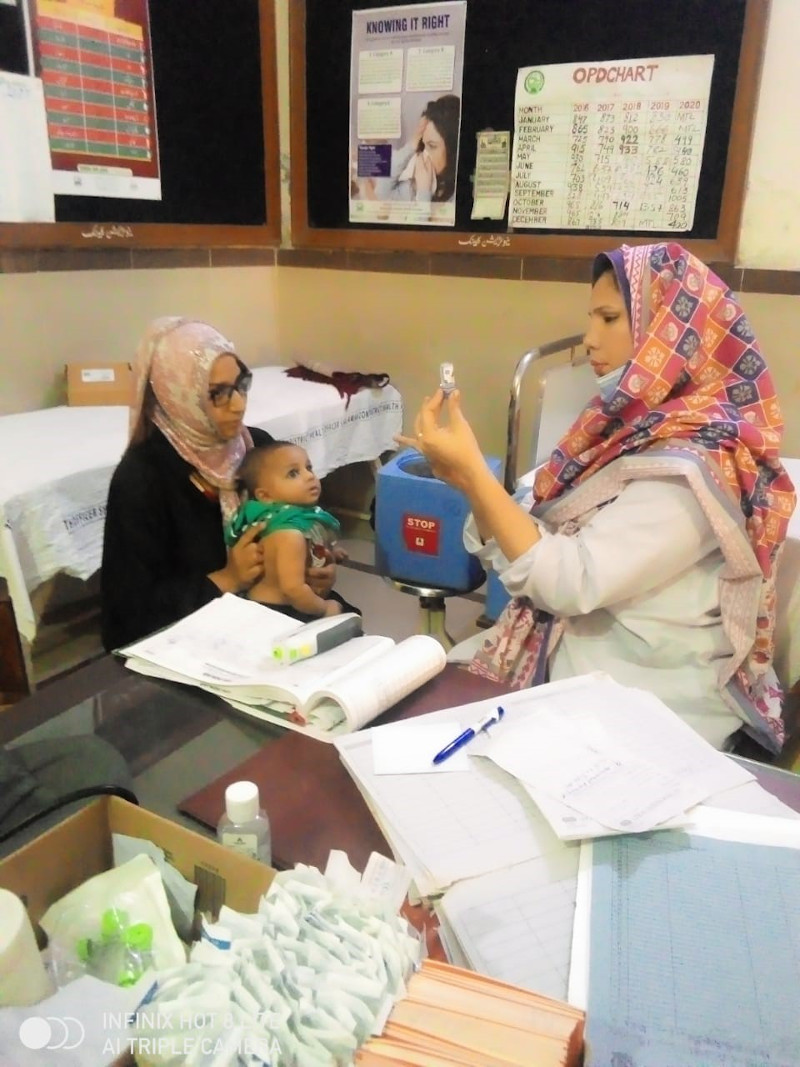 "It leaves us with no option but to travel for miles and hours on foot to reach the children," she says "Despite the challenges, I always try and motivate my teams, telling them that we are on a national mission to save the future of our children," she says.
"It gives me a feeling of gratitude and satisfaction when the community appreciates our efforts for improving the health of their children," adds Zubaida.
Building trust
For nine years, Shumaila Majeed has worked as a community-based health worker in Lahore, with a firm belief in empowering women and supporting their important presence in the polio programme.
Mothers would frequently ask her about the safety of the polio vaccine. "I would always tell them that the polio vaccine is totally safe for their children and build their trust," says Shumaila.
"It's very important to have women in every walk of life," she explains. "Not only because women and grandmothers feel more comfortable when their children are vaccinated but to give more opportunities for woman to grow and excel."
Through her work Shumaila wants to give young girls a message: stay focused on their goals and leave no stone unturned to make their dreams come true.
Persuading parents
In Pakistan, a significant number of parents and caregivers still doubt the effectiveness of vaccines. Karachi has long been a core reservoir for the poliovirus, with continuous and intense circulation.
Shagufta Naz, a community-based health worker in charge of Gulshan town, has been working for 21 years to ensure all children in her area are vaccinated on time. "Initially, parents used to hide their children from us due to their fear," she explains.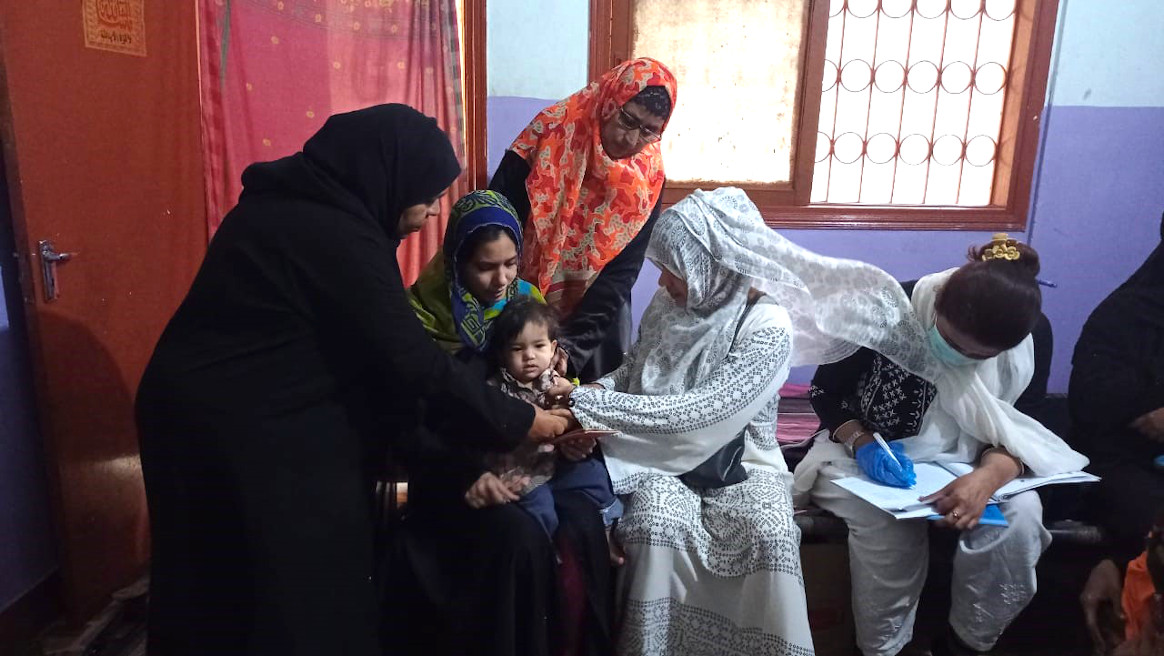 Everyone who works with Shagufta is immediately impressed by her great care, her attention to detail and her meticulous record-keeping which is key to achieving vaccination targets. As a result of Shagufta's hard work, vaccine refusals have reduced significantly. Her work is now so highly regarded that some parents will only have their children vaccinated by Shagufta, asking for her by name with each polio campaign.
"I got to know the community very well, built their trust," she explains. "I know every pregnant woman and can tell you when she is due. Now, mothers regularly ask me about the next vaccination campaign."
Going against all odds
Gul Parana, a Tehsil Communication Officer for the polio eradication programme in Balochistan province in the country's southwest, recently graduated with a master's degree.
Assigned to raise awareness about the benefits of vaccination in Chaman District, one of the most challenging areas for the polio programme, she is proud of her work despite many challenges.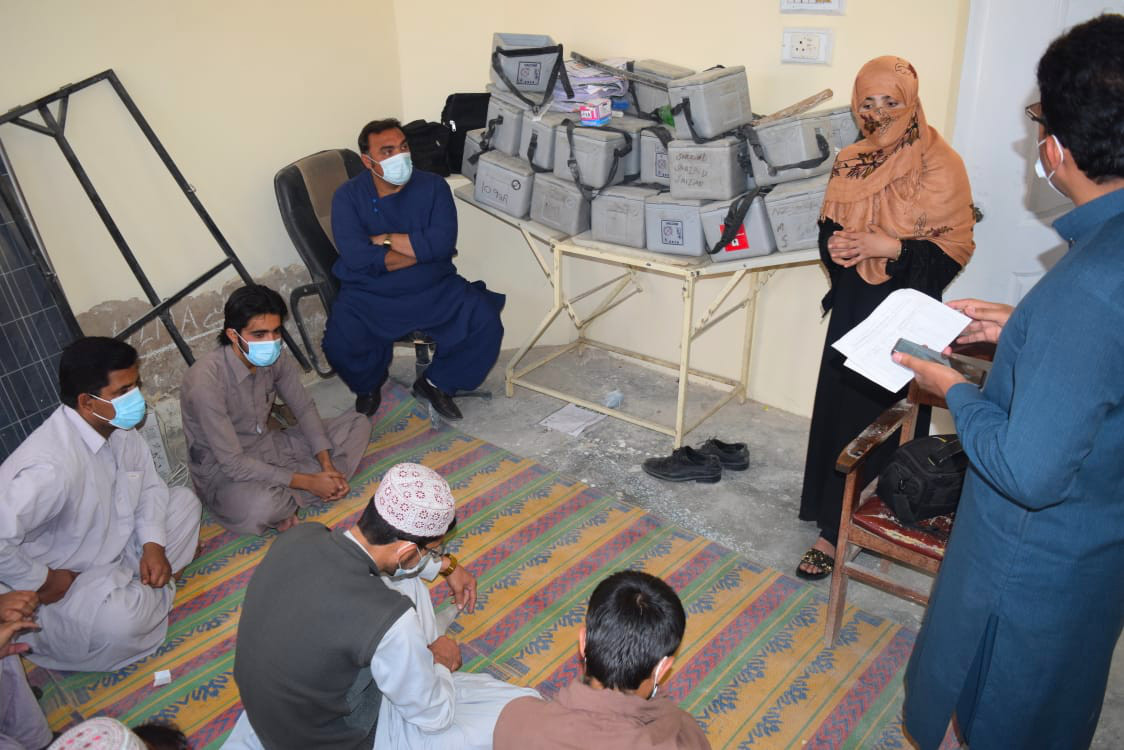 "Since Chaman is a very remote and conservative area, it's not easy for a young girl like me to go out of the house. Most of my friends are not allowed to work. But I have a mission to save our children and give them a healthy future," she says.
With support of her family, Gul Parana has become a symbol of strength for the girls of her locality. "I want to inspire other girls so they can also get an education and work. We need to have equal opportunities for every girl in Balochistan," she adds.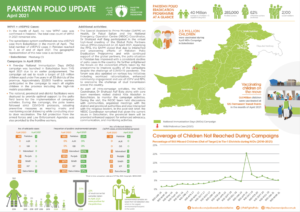 In April:
No case of WPV1 was confirmed
2,500,000 children were vaccinated during the April National Immunization Days (NIDs) in Balochistan
800,000 children were vaccinated 126 Permanent Transit Points
Download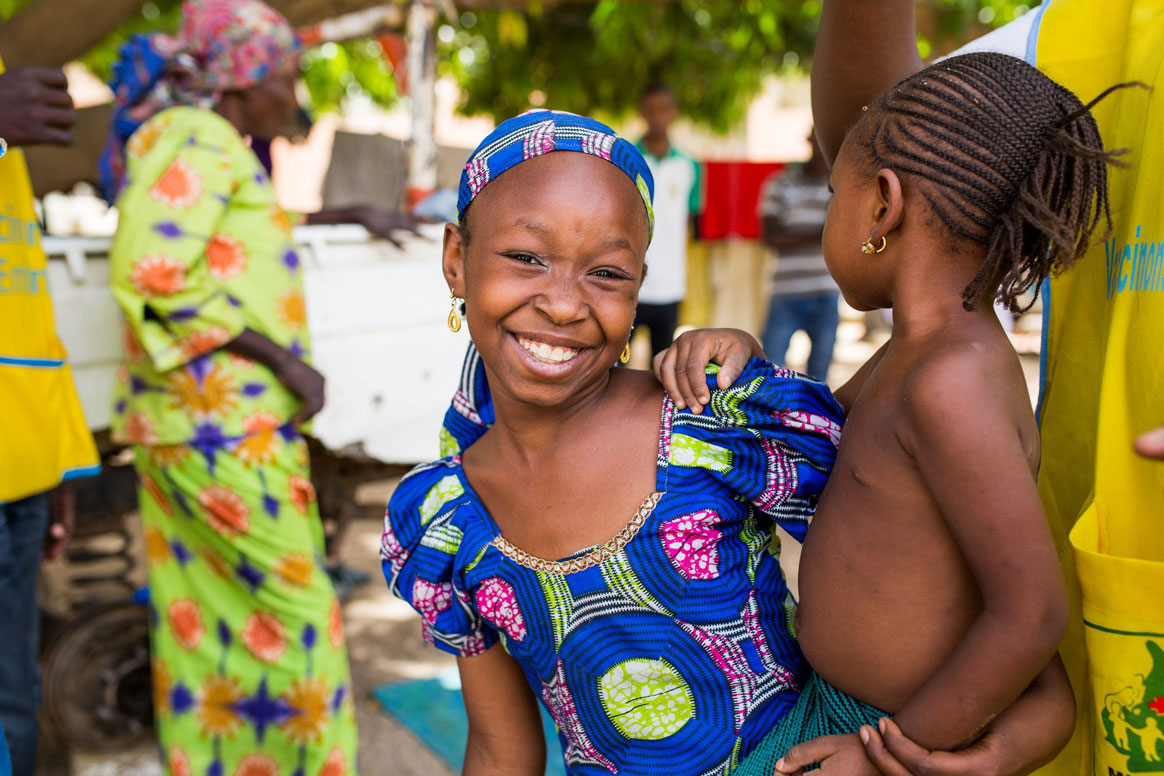 In 1996, wild poliovirus was paralysing more than 75 000 children in the African Region every year, and Nelson Mandela and Rotary International issued a call to "Kick Polio Out of Africa!" The task was daunting. Polio staff had to deal with highly mobile populations, restricted access to children because of conflict and insecurity, fragile health systems and a fast-moving virus. Nigeria, as recently as 2012, accounted for more than half of all wild polio cases worldwide.
Ridding Africa of the wild poliovirus in the face of such daunting obstacles was, in the words of WHO Director-General Dr Tedros Adhanom Ghebreyesus, "one of the greatest public health achievements of our time". It is an achievement built on the dedication of health workers – mainly women – who traveled by every available means – foot, car, boat, bike and more – to reach children with the polio vaccine.
One of the greatest public health achievements of our time.
One of those workers, Lami Isah Kyadawa, supported polio "immunization plus days" for almost 12 years before joining the network of volunteer community mobilizers in Sokoto State, Nigeria, in 2015. In her time fighting polio, she has overcome vaccine hesitancy, countered misinformation and even lost the sight in one eye in an accident returning from a polio mobilization campaign. But, for Lami, the sacrifices have all been worth it:
"It makes me proud to know that I was part of those that ensured the eradication of polio came to pass in Nigeria and now we can focus on improving routine immunization and other diseases."
Eradicating wild polio in the African Region is a monumental feat, not just because of the scale of the task but because of the coordination and leadership required at all levels of the Global Polio Eradication Initiative (GPEI) to get the job done. It involved strategists with imagination, who found solutions to reaching children in regions rife with conflict and insecurity. It required constant surveillance to test cases of paralysis and check sewage for the virus, and it relied upon the commitment of all 47 countries in the African Region.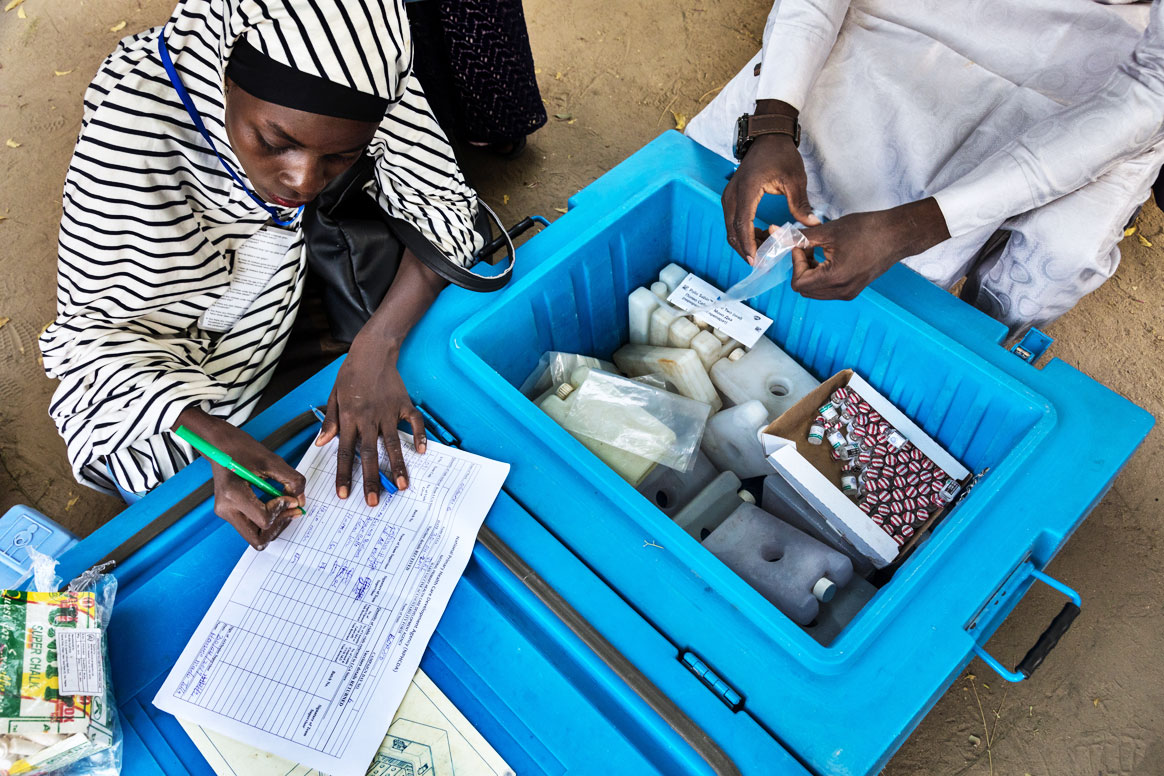 Since 1996, nine billion doses of oral polio vaccine have been provided, averting an estimated 1.8 million cases of wild poliovirus on the continent. Building on this success, countries in the African Region are now using the polio eradication infrastructure's robust immunization and surveillance capacities to strengthen their health systems. The infrastructure, with thousands of health workers and volunteers, community and religious leaders, parents and families mobilized to "Kick Polio Out of Africa", provides a strong foundation for countering other public health threats.
Responding to the pandemic and laying a foundation for the future
Long before the coronavirus pandemic, stopping wild polio brought far-reaching benefits beyond saving children from paralysis, including protecting them from other vaccine-preventable diseases and detecting and responding to outbreaks.
Thus, when COVID-19 struck, the GPEI's staff and infrastructure were in place and equipped to be the first to respond. Thousands of polio workers in the WHO's African, Eastern Mediterranean and South-East Asian Regions shifted their focus to COVID-19. Polio emergency operation centres quickly adapted to respond to the pandemic through surveillance, contact tracing and specimen transport, provision of soap and hand sanitizer, distribution of training materials for medical personnel and front-line workers and coordinated engagement with community and religious leaders and media on mitigation measures.
Polio staff have long been the eyes and ears of national health systems. In one example, polio laboratories in Pakistan provided COVID-19 testing and sequencing, while the polio eradication call centre became (and remains) the national COVID-19 hotline, dealing with up to 70 000 calls a day
Polio staff trained more than 18 600 health professionals, and polio community mobilizers engaged 7000 religious leaders and 26 000 influencers to provide information on COVID-19 to their communities. Through messaging applications, mosque announcements and public address systems on motorbikes and rickshaws, polio community outreach networks have reached millions of households.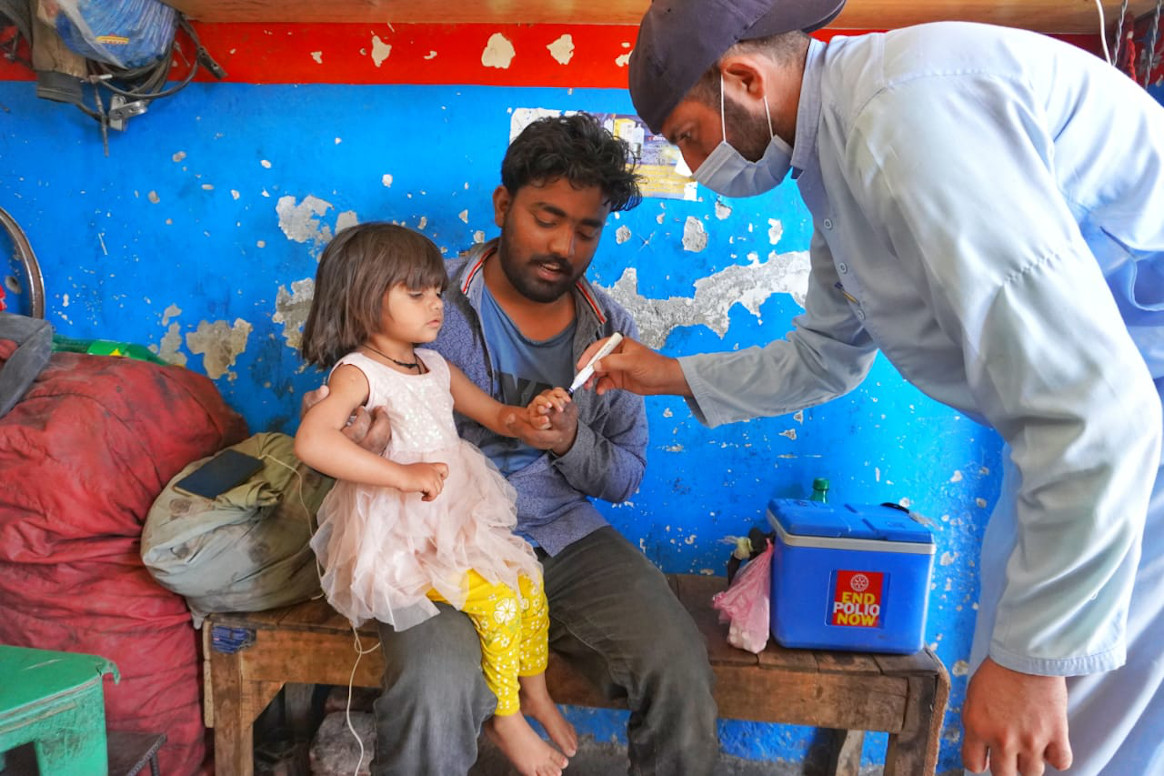 How polio staff in Pakistan shifted their focus to COVID-19:
The pandemic has shown that the polio network can continue to serve other public health programmes, especially in health emergencies. For instance, in Pakistan, active polio surveillance at high-priority sites helped to confirm more than 1000 COVID-19 cases, more than 4400 suspected cases and nearly 500 probable cases. Staff have also used their expertise in data management to improve the quality and timeliness of data during the pandemic. This adaptable skill set makes polio personnel invaluable to health systems and communities.
Looking ahead, transition of polio personnel and infrastructure into public health systems is being planned in countries with large polio eradication programmes, led by national authorities. In places where there is insufficient national capacity, critical immunization, disease detection, emergency preparedness and response capacities will be supported by WHO's immunization and emergencies programmes until national authorities can fully take over. Sustaining these capacities will require sustainable funding, but, as Africa's remarkable achievement confirms, the wisdom of investing in polio eradication and sustaining its legacy is clear, as the networks set up for polio eradication will prove vital to advancing global public health security and achieving healthier populations.
Reposted from who.int.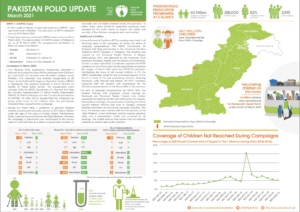 In March:
No case of WPV1 was confirmed
37.7 children under the age of five were vaccinated during the March National Immunisation Days (NIDs)
Downloads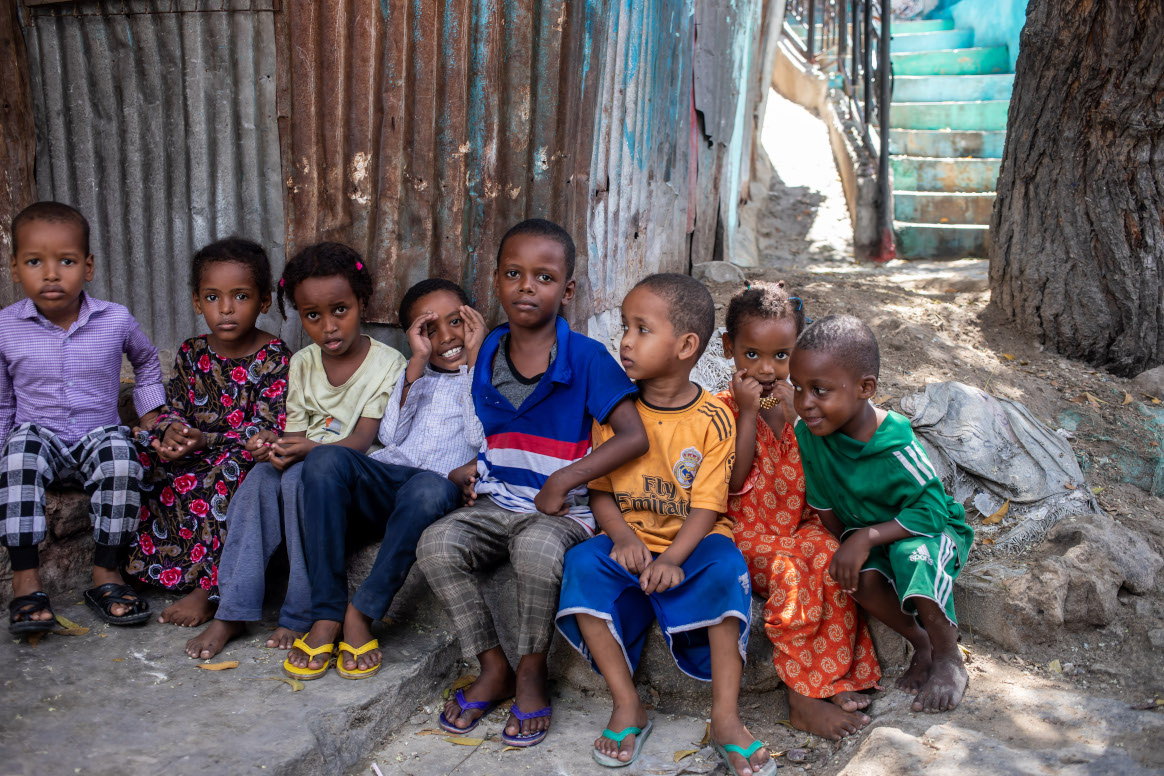 Dr Hamid Jafari, Director of Polio Eradication for WHO's Eastern Mediterranean Region, declared Somalia's outbreak of circulating vaccine-derived poliovirus type 3 (cVDPV3) closed a full 28 months after this strain of polio was last detected in Somalia.
Seven children were paralysed by the type 3 strain in the 2018 outbreak, and sewage samples regularly monitored for poliovirus tested positive for cVDPV3 a dozen times, beginning March 2018. There is no doubt that the virus circulated widely around southern and central Somalia. Despite extensive disease surveillance measures, no cVDPV3 has been identified since 7 September 2018, when the last child developed paralysis.
Closing a polio outbreak is a formal process steered by a detailed checklist of surveillance indicators that must be met in order to show that the virus is not just hiding in a far-flung pocket but has truly disappeared. Sewage runoff is tested for virus, and health workers and community members actively search for paralysis in children, and then investigate any paralysis they do find to rule out polio. Accessing hard-to-reach communities is a challenge in Somalia, but a vital aspect of this work.
The 2018 cVDPV3 outbreak was part of a 2-strain polio outbreak in Somalia at that time, along with circulating vaccine-derived poliovirus type 2. Both strains emerge and paralyse children in under-immunized populations – places where not enough children have consistently had access to polio vaccines. The cVDPV2 outbreak continues to paralyse children, and environmental samples – sewage water – consistently show that virus moving through Somali communities. For the polio programme, the presence of cVDPV2 samples and the absence of cVDPV3 samples is bittersweet: it demonstrates the sensitivity of our testing, so we can be confident cVDPV3 is no longer a threat to Somali children – but it makes clear that the threat of paralytic polio still looms.
Across the Region, cVDPV2 cases are on the rise – as across much of WHO's African Region. Wild poliovirus still stalks children across Afghanistan and Pakistan, and the movement of people across borders underscores the risk of importation across and beyond the Region.
The end of Somalia's cVDPV3 outbreak shows what can be achieved with high-quality vaccination campaigns, on-the-ground leadership and sensitive surveillance measures.
In his English writing class, Mujahid Miran was asked to write an essay titled the "Aim of life". This was a space for the students to imagine who they could be and what they saw themselves as when they grew up.
Miran wanted to be a captain in the army and he eagerly shared this 'aim of life' in his essay. After his hopes made it to the page, his teacher immediately shot it down: There was no way he would make it, she told him, because he had polio.
Born in 1985, Miran grew up in Kohat and contracted polio when he was two. This was a year before the Global Polio Eradication Initiative was founded in 1988, leading to a worldwide vaccination campaign to fight the spread of the disease. In the decade of the '80s, the estimated number of cases was over 350 000 per year, while the disease was still prevalent in 125 countries. With focused efforts around the world to eradicate the poliovirus, the number of paralytic cases was reduced by 99.99% with 42 cases in 2016.
For Miran, school was among the most challenging periods of his life. "School life was generally very hard. It must be easier for polio survivors to study in special schools, but in a usual school, I was always referred to as langra, mazoor (derogatory words in Urdu for people with disabilities). I was always made to feel different."
The challenges were frequent, never letting him forget that he couldn't walk from one leg. "Among the things that would hurt a lot was sports class or recess. "Every time kids would be chosen for a sports activity, I was completely sidelined – as if I wasn't even there." he says.
Academically, Miran always performed well in class and would usually be among the top three students. I always had among the best grades, but I would never be nominated to be the class monitor or get a position as part of the student council, he says. "Every week I'd go to my teacher and ask her why I was never nominated because other students who would be poorer than me academically would be chosen instead. A part of me knew even back then that it was my disability, but now looking back, I know it was exactly that."
After having lived with polio for 33 years now,  Miran is now based in Karachi and is part of a small seafood export business. He buys seafood from factories in Pakistan to sell in southeast Asia and makes an income for the commission he makes per sale.
Miran is able to independently support his family of his wife and two children, aged six and two, but the everyday realities of living with polio make the smallest of tasks harder.
"There is such little awareness in Pakistan, and it's even within government institutions. I had to get my special driver's license and when I went to get it made, the officer on duty asked me to raise my shalwar in front of a group of people and stand on one foot to prove I had a disability, he adds. "The humiliation is too much."
This virus has also been an obstacle in maintaining friendships, as most places for leisure in Pakistan have no access for people with disabilities. "Plus, there is also so much shame in it.  I was in Dubai once and I was walking with a friend who turned around to me and said that the way I was walking was embarrassing for him.  This virus impacts your life in every way."
Last year, Africa was declared wild polio-free after Nigeria, the last remaining country in the region that had polio and accounted for more than half of all global cases less than a decade ago, had no cases of wild poliovirus for the fourth year running.
Today, Pakistan and Afghanistan are the only two endemic countries in the world and global efforts continue to vaccine children in this epidemiological block, and finally make the dream of a polio-free world possible.
Miran says this interview is his personal effort to spread awareness on polio. "I talk to everyone in my friends and family circle who have young children. I give them my example and tell them they can't afford to miss out on vaccination. I am very regular with my children's vaccination too. Whenever polio teams come to our house, I make sure the children take polio drops."
At many times in the interview, Miran mentions how the physical pain caused by the disease is often unbearable. "I almost never express how much pain I feel because people will think I'm asking them for financial help or wanting their sympathy. But I just want everyone to know that living with polio is hard. Very, very hard."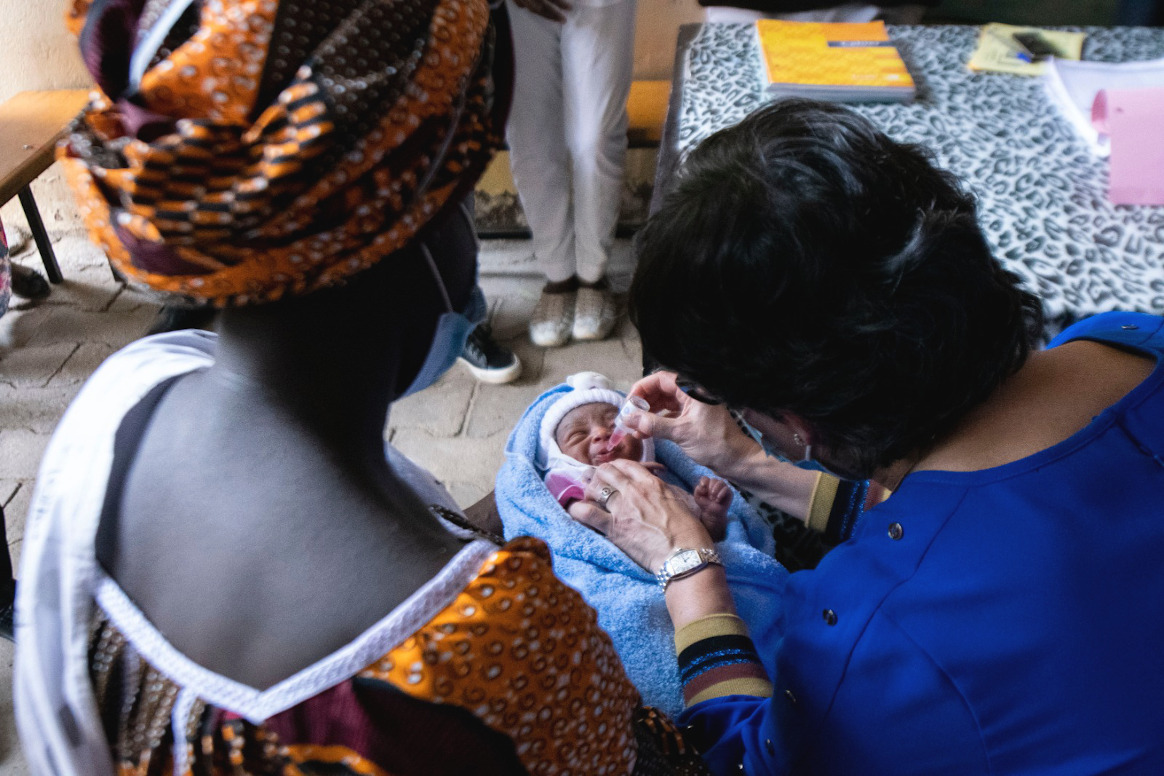 Therese and Léonie reminded me of this hard truth in a recent visit to a hospital in N'Djaména, Chad. One is a newborn girl and the other is a veteran of the campaign to eradicate a human disease for only the second time in history –polio-.
As a Gender Champion for Polio Eradication, I have committed to supporting the global initiative to eradicate polio and the women who work tirelessly to protect children from lifelong paralysis. During my visit to Chad, I had the honour of giving two drops of life-saving oral polio vaccine to two newborns.
Protected from a disease which once struck millions of children, Therese now has a better chance of a healthy life. Thanks to the Global Polio Eradication Initiative (GPEI) – spearheaded by Rotary International, national governments, the World Health Organization, UNICEF, CDC, the Bill & Melinda Gates Foundation and Gavi, the Vaccine Alliance –  she is one of more than 2.5 billion children who have received the oral polio vaccine, as the global polio caseload has been reduced by 99% since 1988.
But as I looked at Therese, I also wished that she would have a better chance not just for health, but also for opportunities to prosper. I thought of a recent WHO report I had read – Delivered by Women, Led by Men – which observed that women make up 70% of the global health workforce but hold only 25% of senior roles – a situation that is no different for the polio program. Would Therese's future reflect that disparity?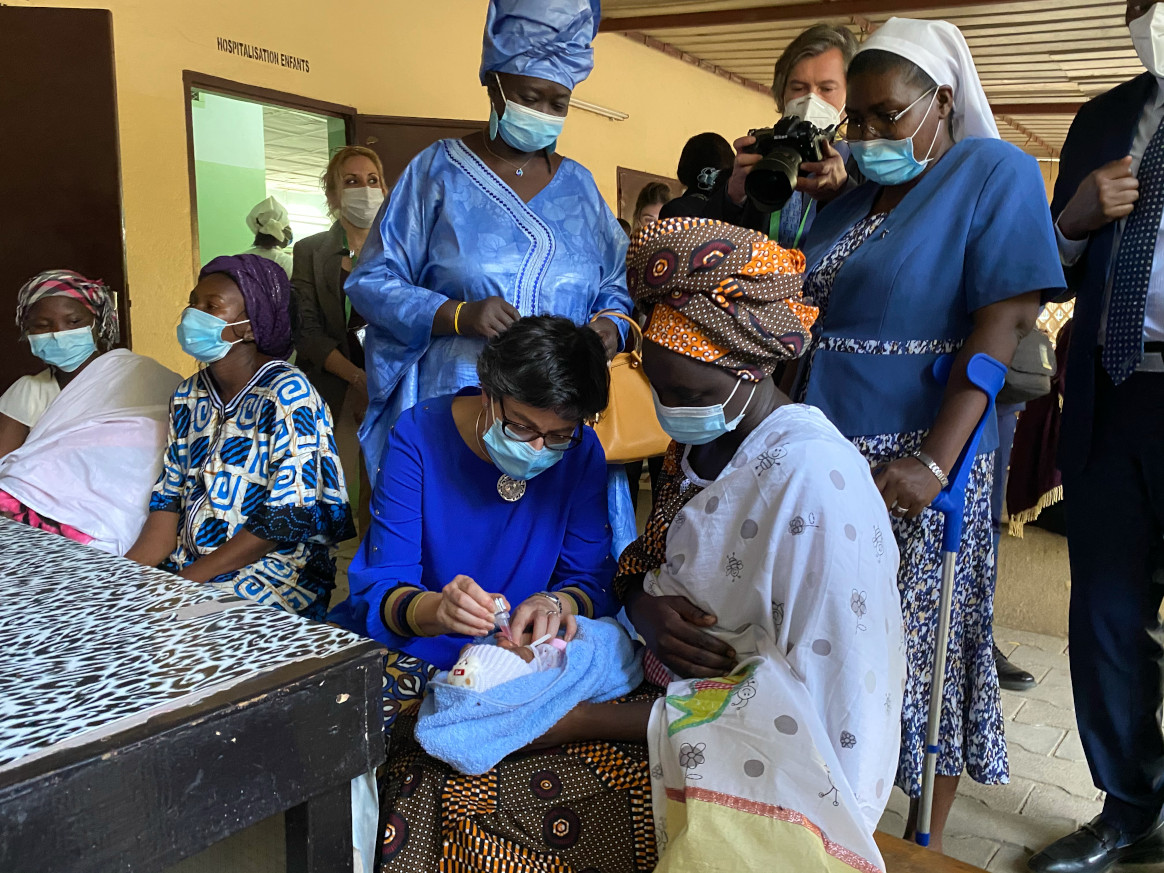 I found both frustration and hope in answer to my question when I listened to Ms. Léonie Ngaordoum, the woman responsible for the campaign which brought the vaccine to Therese.
Léonie is head of vaccine operations for Chad's immunization programme. It is women like her who have brought us this far in the long fight against polio. It is women like her who have gone the extra mile to keep their countries safe when, in 2020, the polio programme faced unprecedented challenges in the face of a new pandemic- COVID-19.
Her journey to a senior public health position in Chad has been difficult. Driven to remote areas on dangerous roads to oversee vaccination campaigns, she has twice suffered accidents, one of which left her with severe spinal injuries. She has faced gender discrimination, countered vaccine misinformation, convinced vaccine sceptics, and stayed the course despite the severe strain of COVID-19, and struggling for respect and recognition in a male-dominated environment.
Today she has a clear vision to share: "I speak about vaccination as if it were a vocation…the program change needed to achieve polio eradication is to empower enough women." Léonie's experience highlights the necessity of increasing senior roles among women in the health workforce and involving them in policy decisions.
Women like her frequently operate in dangerous and conflict-affected areas, putting their own personal safety at risk – all in efforts to protect communities from deadly diseases.  Women have a greater level of trust with other women and thus are able to enter households and have interactions with mothers and children necessary to deliver the polio vaccine. And this way they can also provide other services, such as health education, antenatal care, routine immunization, and maternal health.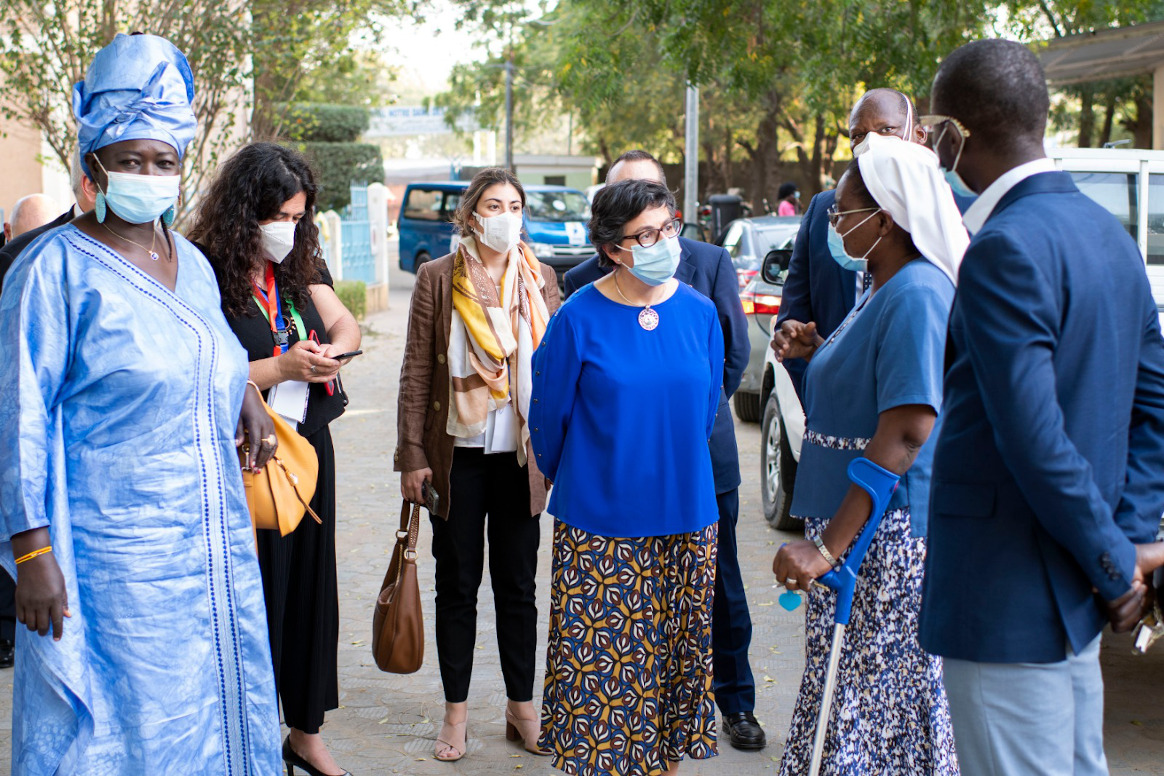 The knowledge and skills gained by this workforce are already being deployed against COVID-19, in surveillance, contact tracing, and raising public awareness. Indeed, more than 50 percent of the time spent by GPEI health workers is already dedicated to diseases and threats beyond polio. It's clear that the future of public health is inextricably linked to the status of women. Their heroic actions provide nothing less than a blueprint for the future of disease prevention. The Resolution on "Women, girls and the response to COVID-19", adopted last year by the UN General Assembly, should play a key role when addressing these challenges and the specific needs of women and girls in conflict situations.
The centrality of women to the success of public health projects has for too long gone unrecognised, and must be formalized. That is why today, on International Women's Day, we must pay tribute to the tremendous contribution of women like Léonie around the world in protecting their communities from deadly diseases such as polio.  But at the same time, thinking of the world in which Therese will come of age, we need to commit to empower every woman and girl. It will not only make for a more just world – but a healthier one too.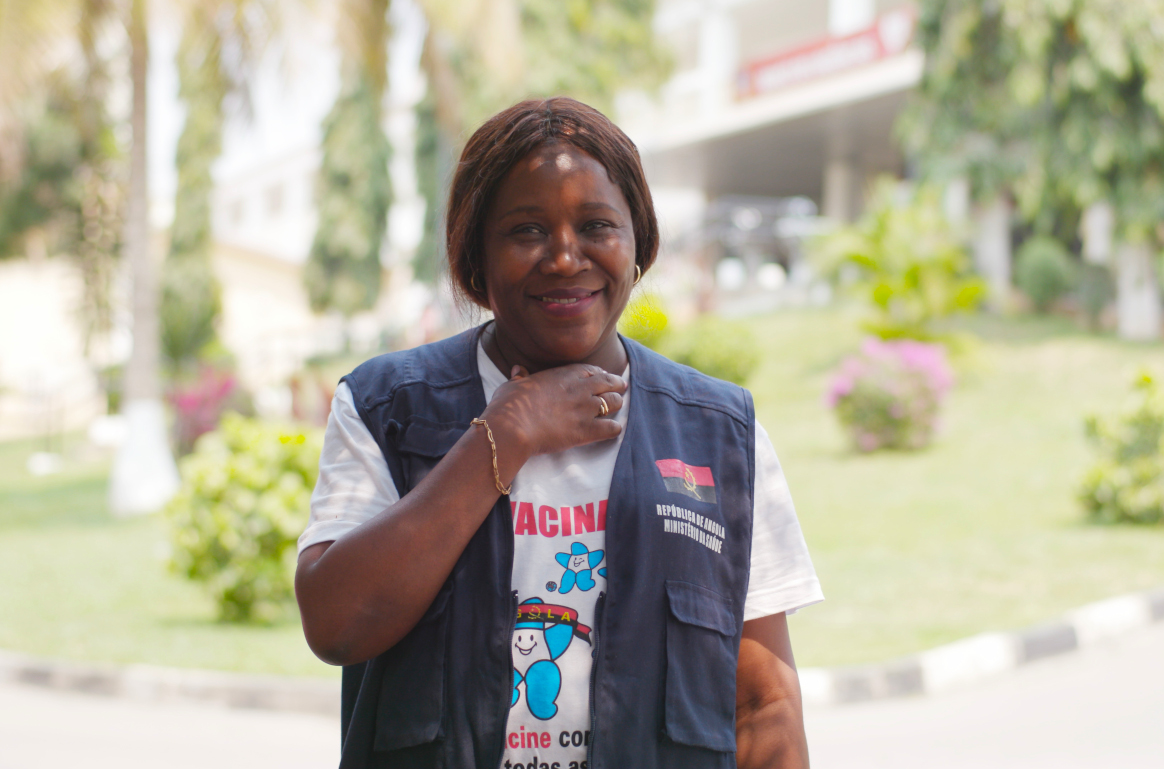 From her first polio vaccination campaign in 1997 to the present day, Dr. De Sousa has never lost her passion for increasing access to immunization. The National Expanded Program on Immunization (EPI) Manager for Angola, she remembers her first impressions of the country, "At the time, I could see that most children in the country were not vaccinated and I was excited to help them."
From the outset, she knew that taking on polio eradication would be challenging. "Angola had just emerged from an armed conflict and there were areas that were very difficult to access, due to dilapidated roads, broken bridges and mining activity, and for that reason there was low routine vaccination coverage. Nevertheless, I felt that I had a duty to fulfill for our children, so I accepted the challenge."
In 1998, Dr. De Sousa was appointed by the National Directorate of Public Health to help implement the Epidemiological Surveillance System for Acute Flaccid Paralysis (AFP) – one of the primary symptoms of polio. It was a position that required grit and resilience.
She explains, "This was a big responsibility because highly sensitive surveillance for AFP, including immediate case investigation and specimen collection, are critical for the detection of wild poliovirus. AFP surveillance is also critical for documenting the absence of poliovirus circulation for polio-free certification."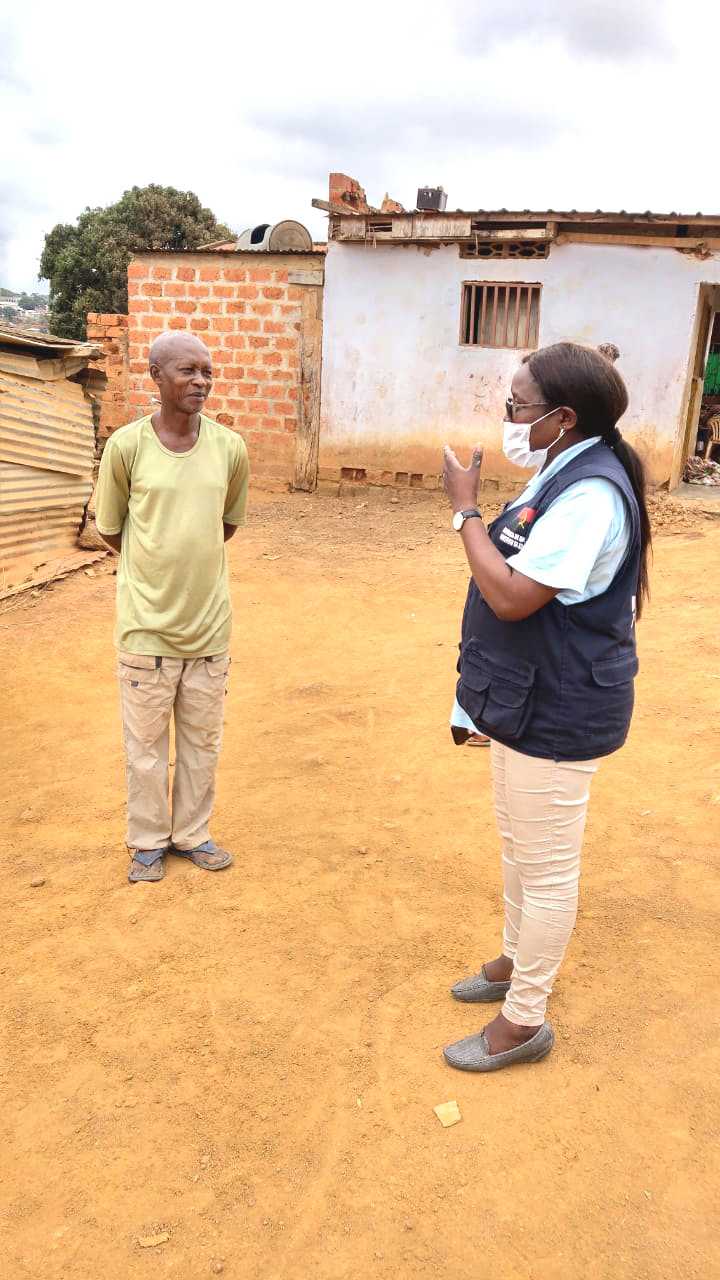 "One of my most vivid memories of the programme is from 1999 when I was trying to reach conflict-affected areas after a polio epidemic had registered more than 1190 cases and 113 deaths. I was early in my career with only two years of service and the sheer number of cases and deaths led me to be proactive and persistent in my day-to-day activities toward the eradication of the disease."
"Another standout moment occurred on the second time that I went to coordinate a vaccination campaign in the province of Moxico; one of the vehicles in our convoy triggered a mine, so we were forced to stop the vaccination campaign as our colleagues were stranded in conflict zones for a few days. This incident captures the difficult circumstances we were operating in as health workers."
Eradicating wild virus in Angola
For years the polio team worked to improve operations to detect polio and deliver vaccines, but the virus fought back. After registering a last case of indigenous wild poliovirus in September 2001, Angola recorded four successive outbreaks imported from India and Congo. Dr. De Sousa remembers that this caused many people to doubt that the eradication of polio would ever be possible.
"But I refused to be discouraged. I've never backed down from a challenge and I don't plan to soon."
After years of work, Angola finally received wild polio-free status in November 2015. Dr. De Sousa describes it as her proudest moment.
"I felt that I made a great contribution to my country and our children as the person managing the Extended Program on Immunization in Angola."
A new challenge
In 2019, Angola's immunization team faced a new challenge when the polio programme detected an outbreak of circulating vaccine-derived polio type 2, a type of polio that emerges in places with low immunity. Dr. De Sousa again found herself at the forefront of the action, starting by supporting the Government to respond with vaccination campaigns.
One of her key tasks since has been recruiting new immunization health professionals, who can help reach the children missed by routine immunization and polio campaigns. She explains, "my goal is to train my colleagues so that we can work together to reach the vast number of Angolan children missing out on lifesaving vaccines."
In July 2020, Angola held its first polio campaign after a pause on vaccination activities in the early months of the COVID-19 pandemic. More than 1.2 million children were reached by over 4000 vaccinators.
Gender and leadership
Dr. De Sousa explains that being a woman leader in Angola isn't easy. "It requires a lot of time, dedication and a balance with domestic, family, and social life, which has not been easy to manage. However, with the help of God and my family – especially my husband – I am managing to carry out my work."
"It has all been worth it for the results I've helped to achieve, and even though we have some way to go in relation to vaccination coverage, I'm grateful for the opportunity to ensure the health of our children and serve my country."
In Angola, at the provincial and municipal level, there are very few women compared to men. However, in public health programmes at the national level, women outnumber men. Dr. De Sousa says that, "In general, I think there should be more women leading and administering vaccination programmes".
In 2021, the polio programme is aiming to implement more outbreak response vaccination rounds to reach children with low immunity to the poliovirus. Driven by her passion and sense of duty, Dr. De Sousa will continue to be on the frontlines of this effort.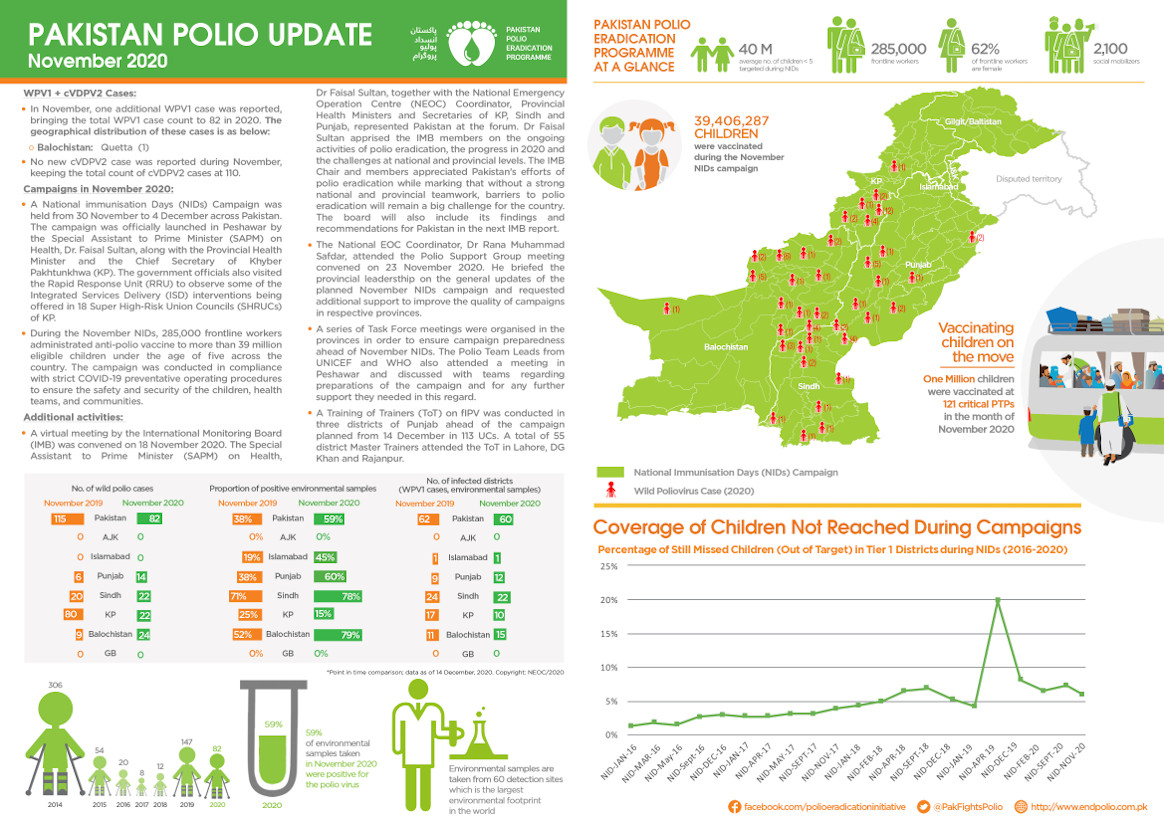 In November:
1 case of Wild Polio Virus (WPV1) was confirmed
39,406,287 children were vaccinated during the November NIDs
One million children were vaccinated at 121 critical PTPs
Download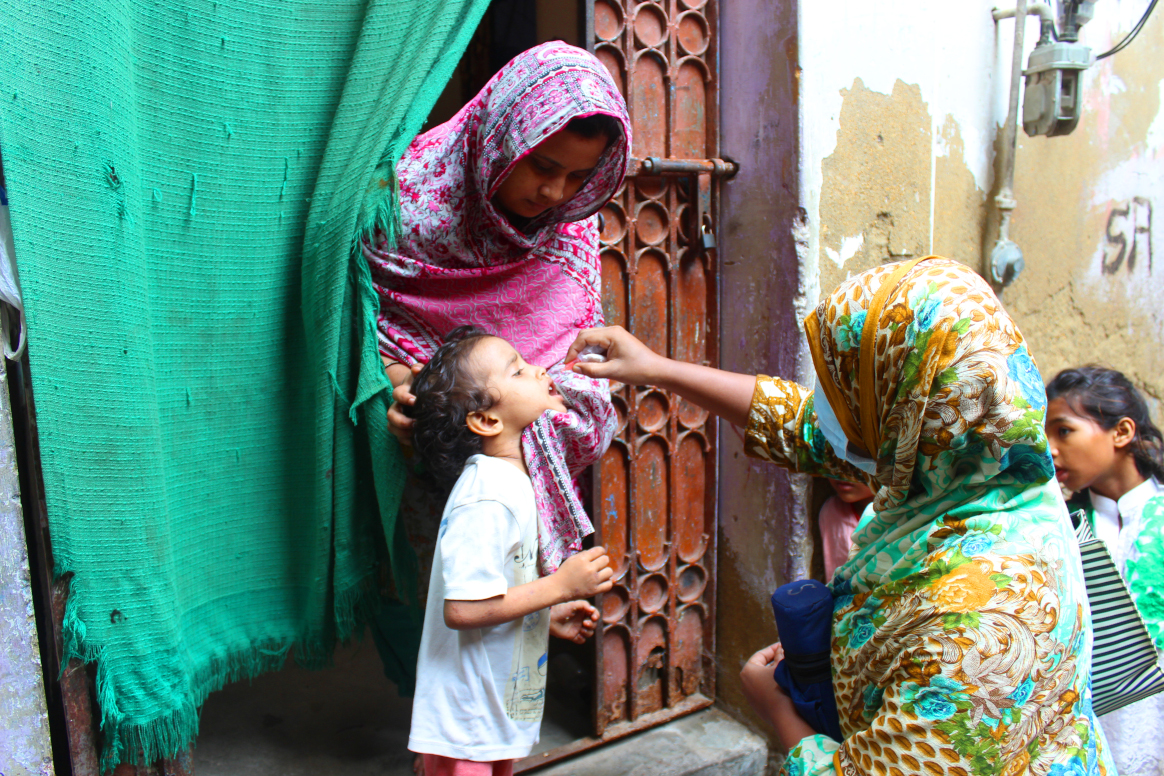 With masks on their faces and sanitizers in their pockets, an immunization team makes their way through the narrow lanes of Lahore's historic old city.
"Our children are like flowers and these anti-polio drives help them grow up healthy and strong," says Zubair, who along with his colleague Afzal is part of Pakistan's 260,000-strong frontline vaccinator workforce.
It is the second day of the National Immunization Days (NID) campaign, which launched on 21 September, and the third immunization drive after a four-month suspension of door-to door campaigns due to the risks associated with COVID-19.
After polio campaigns were stopped in March 2020, the number of polio cases in Pakistan continued to increase. An initial small-scale round of vaccinations resumed in July, when over 700,000 children were reached. A second round went ahead in August, where 32 million children were vaccinated across the country. In both campaigns, vaccinators took precautions to prevent the spread of COVID-19, including wearing masks and regularly washing hands.
Making their way from the crowded streets of Taxila Gate, the polio team reaches a historic cultural hub of Lahore city called Heera Mandi.
In this neighbourhood, the team knocks on one door after another. "Sister, do you have children under five at home?", they say.
When the answer is yes, one of the vaccinators stands to the side while Zubair hands them a hand sanitizer. They all stand at a safe distance from each other, to remain compliant with COVID-19 safety measures, and to make sure the dual message of the necessary fight against both polio and COVID-19 reaches home.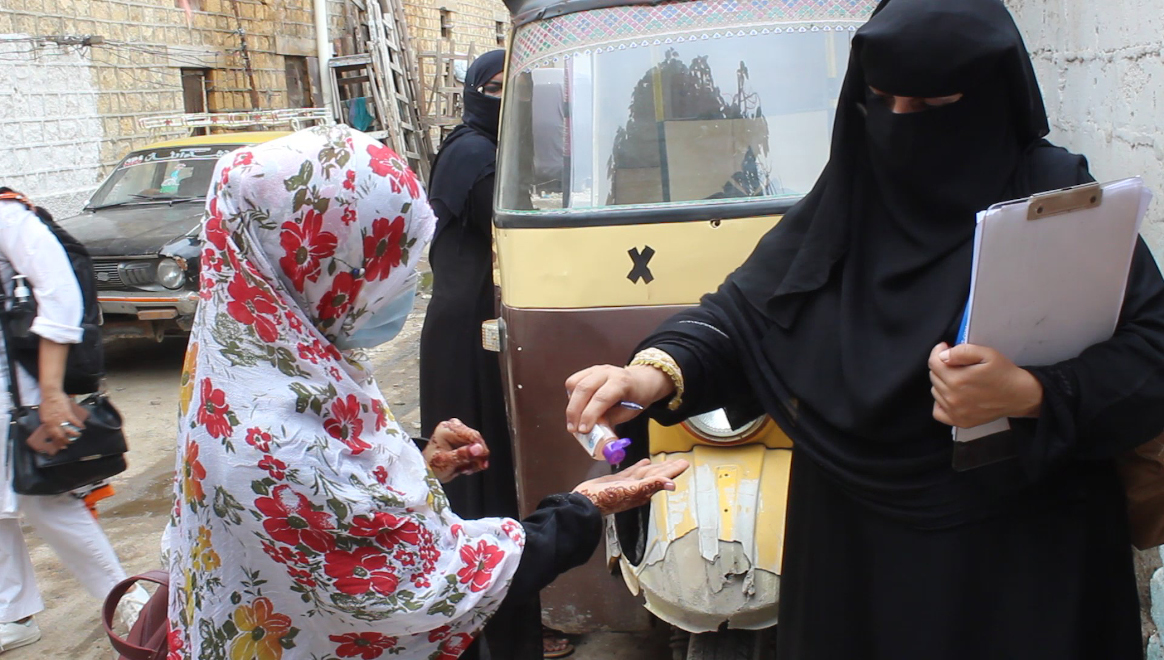 Zubair says that since the resumption of immunization campaigns in Pakistan, parents have been more enthusiastic to ensure their children are vaccinated.
Next door, a Maulana (a religious cleric) answers. When he sees the polio team, he immediately goes back inside. Team members worry that he may reject the vaccine, but soon enough, he returns with his two children.
"Did you ever believe that the polio vaccination was a conspiracy?," the Maulana is asked. In some parts of Pakistan, false rumours about the vaccine have damaged confidence in immunization, with sometimes devastating results for children subsequently infected with polio.
"No Sir, only a fool can think like that," he replies.
Afzal, another member of the immunization team, says that he finds his work fulfilling because it allows him to directly speak to parents about polio and explain that they can give their children a healthy future by vaccinating them.
With a physical disability, Afzal often faces discrimination based on his health condition. He explains that this hasn't prevent him from pursuing his ambitions.
"I never allowed my disability to become an obstacle. I completed my master's degree while attending regular classes at college, and now I have been working with the polio programme for nine years."
"If a family is hesitant during a polio campaign, I approach the parents," he says. "I show the parents my polio-affected leg and ask them if they really want their child to have one too. This changes hesitation to acceptance."
Health workers like Zubair and Azfal are working every day to achieve the dream of ending polio in Pakistan. With their effort and the efforts of thousands like them, the September campaign successfully reached over 39 million children across the country. These promising results, achieved during a pandemic, are a testament to an ongoing commitment to overcome challenges and move Pakistan closer to a polio-free future.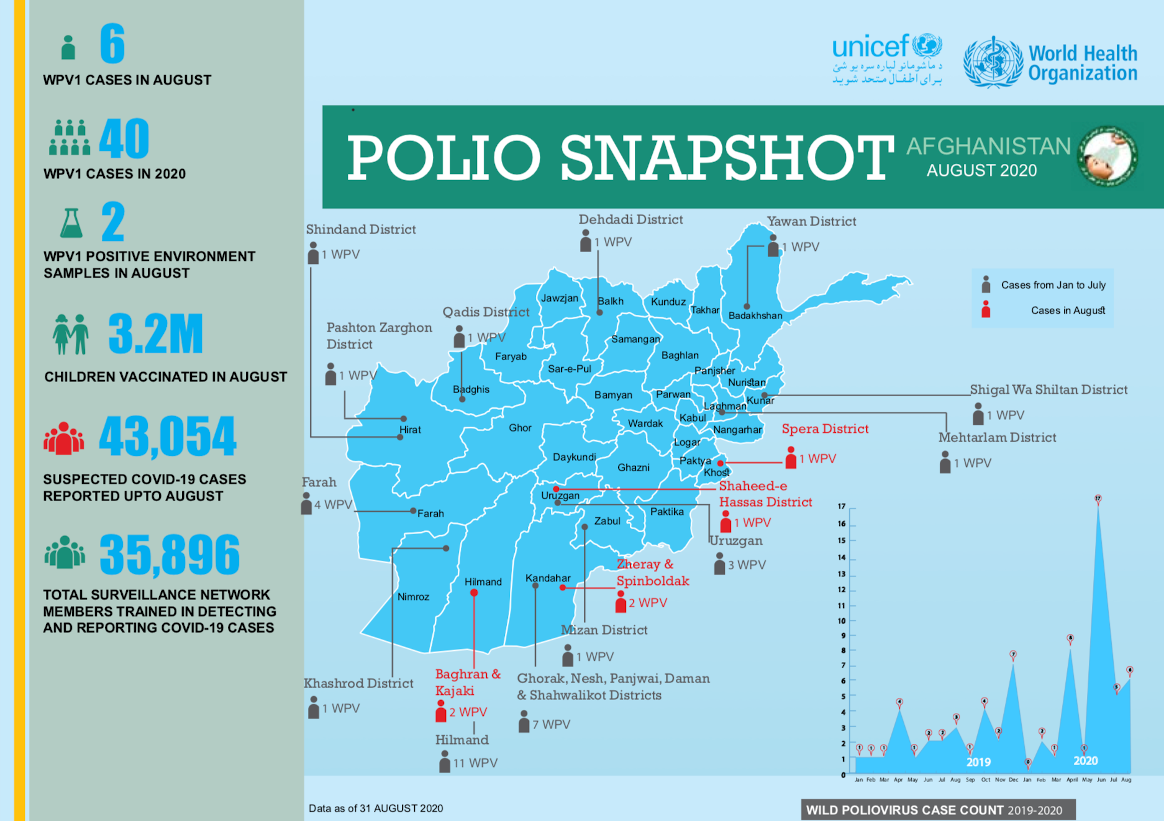 In August:
6 cases of Wild Polio Virus (WPV1) were confirmed – 2 from Kandahar, 2 from Hilmand, 1 from Uruzgan, and 1 from Khost

221 children with Acute Flaccid Paralysis (AFP) -96 girls and 125 boys – were reported.
Related resources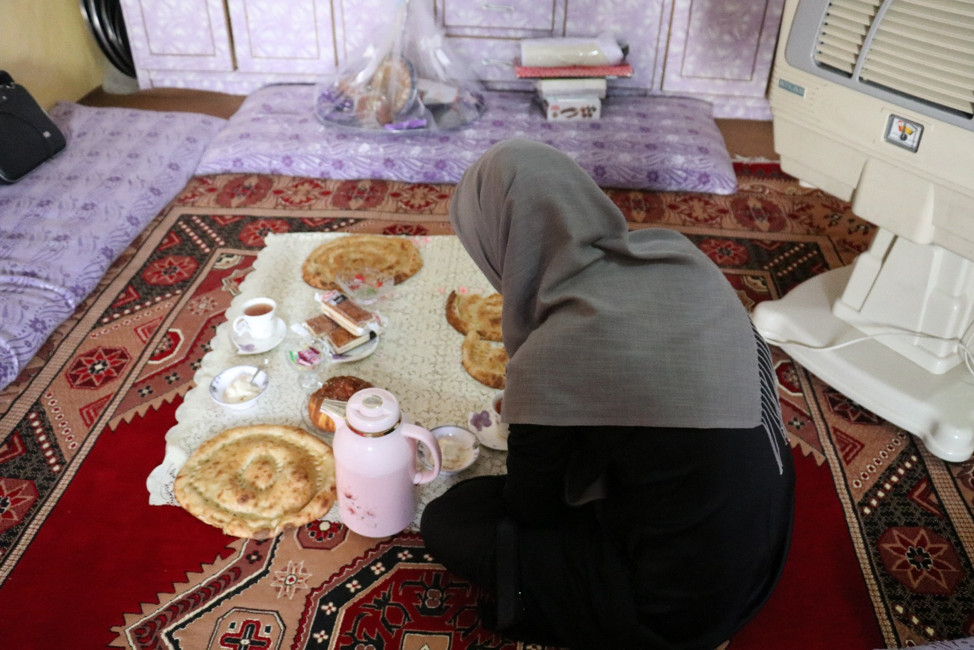 Dr Elaha, at 22 years old, is a medical graduate and a District Polio Officer. She's also helping fight the COVID-19 pandemic in Afghanistan.
"COVID-19 has affected both our work life and personal life. When I joined the polio team, I had plans to take initiative and look for innovative ways to fight polio, however, with the COVID-19 pandemic all my plans were challenged," she says. "Campaigns were postponed and the number of cases were on the rise."
The temporary pause in polio vaccination campaigns, necessary to keep health workers and communities safe during the early months of the pandemic, led to a widened immunity gap in both Afghanistan and Pakistan, the only two countries that still harbour wild poliovirus. Now, polio teams are urgently working to close the gap while continuing their support to Afghanistan's COVID-19 response. To ensure their safety, all polio personnel have been trained to take precautionary measures against COVID-19, including wearing masks correctly and regular handwashing.
Dr Elaha doesn't underestimate the danger of her work to fight COVID-19. She explains, "I start my day at 8am by visiting private and public clinics, pharmacies, traditional healers at their homes. Of course, I am worried about myself and my family getting COVID-19. My mother is elderly, and COVID-19 can be dangerous for her."
"However, I am committed to serve my people and go out in the field to help save others' lives. It is not easy. My family understand that I am a medical doctor, so no matter what virus is there, I have to do my job as a doctor."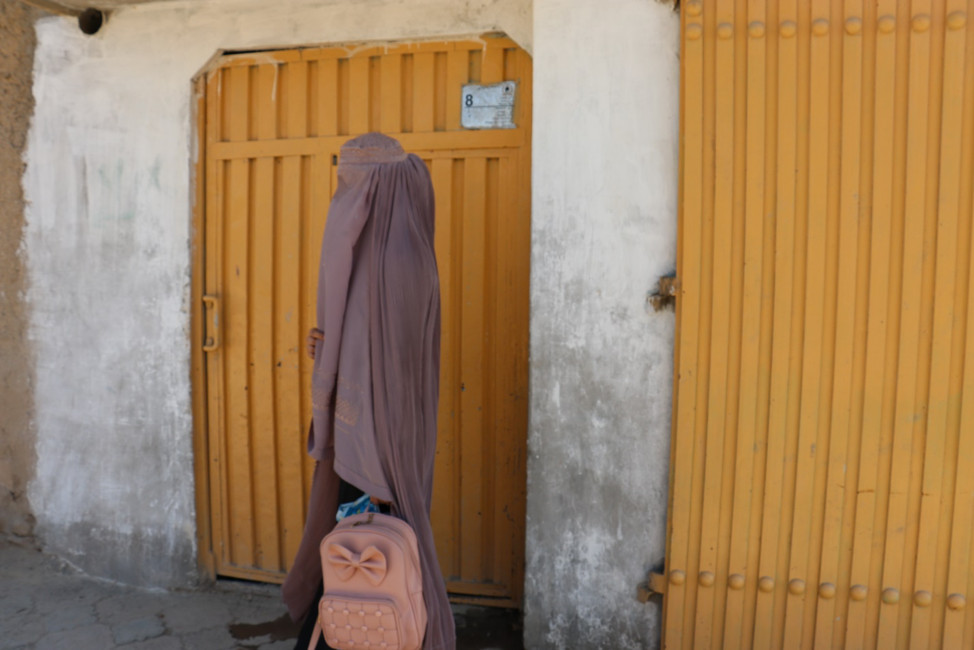 Through her work, Dr Elaha has come up against rumours and misinformation. A major part of both ending polio and fighting COVID-19 is working to inform and build trust with communities about diseases and how they can be prevented.
Elaha says, "A lot of people thought that COVID-19 was a disease of nonbelievers. At first, when I used to go to clinics, because of my medical degree, they respectfully listened to me. However, when I talked about COVID-19 and washing hands and other preventative methods, they would tell me that this disease was for nonbelievers."
"Unfortunately, a lot of people got sick and many also lost their lives. People have started to believe the pandemic. They know that people can get sick and die of the disease."
Although public awareness about the dangers of COVID-19 has improved, Dr Elaha believes there is still plenty to do to encourage communities to adopt disease prevention measures such as widespread mask wearing.
Until the pandemic is over, she is determined to work long hours to fight both polio and COVID-19. The polio workforce currently contributing to COVID-19 response includes almost 36,000 members of the Polio Surveillance Network, and over 47,000 polio frontline workers.