31/05/2017
Broader benefits of the polio programme, Endemic countries, GPEI partners, Innovation, Outbreak response, Routine immunization, Social mobilization, Transition planning, Vaccination campaigns
Nigeria
Between Campaigns, Polio Workers Bring Broad Benefits
How Nigeria's Volunteer Community Mobilizers are delivering more than just polio vaccines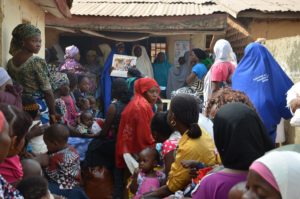 "Are you watching me?" "Yes, ma'am."
"Are you seeing me?" "Yes ma'am."
Along two rows of benches under the awning of the Chikun Primary Health Centre in northern Nigeria's Kaduna State, about 50 young mothers sit still, their babies swaying on their laps. All eyes are fixed on Lidia, the assured polio social mobilizer who is not delivering polio vaccine, but showing the women how to correctly breastfeed.
Lidia is a grandmother, a one-time community midwife now employed with Nigeria's polio eradication programme as a UNICEF-supported Volunteer Community Mobilizer (VCM). During the monthly polio vaccination campaigns, she goes house to house with the vaccination team, opening doors through her trusted relationship with the mothers, tackling refusals where they occur and tracking any children missed in the campaigns through her field book containing the names and ages of all children in her area. But it is between campaigns where Lidia's full worth is realized.
Trust
Helen Jatau, a supervisor in this Local Government Area, supervises 50 VCMs and five first-level supervisors. She is convinced the health care polio frontline workers provide between campaigns provides benefits beyond the surface value – it establishes trust. "When we bring different things to the mothers, it helps the community live better and even accept us more, because we are giving more than just polio vaccines."
Between polio vaccination campaigns, mobilizers like Lidia track pregnant women and ensure the mothers undertake four Ante-Natal Care visits, including immunization against tetanus. They advise mothers-to-be to give birth at the government health facility, provide them with the first dose of oral polio vaccine, facilitate birth registration and connect them to the routine immunization system. In houses and at monthly community meetings, the mobilizers also provide information on exclusive breastfeeding, hand washing, the benefits of Insecticide Treated Bed Nets, Routine Immunization and the polio vaccination campaign.
Ante-Natal Care
VCM Charity Ogwuche stands before the mothers at the health centre and peels over the pages of a colourful flip book. "Breastmilk builds the soldiers inside your child," she shouts. "It will save you money. You don't need to find food for your child to eat. You don't need to find water: 80% of breastmilk is water. It will protect your child."
Adiza, a young mother holding her first child, Musa, carries a routine immunization card including messaging on breast feeding and birth registration. "Aminatu talked to me about antenatal care. She asked me to get the tetanus shot, and today she has brought me here to receive routine immunization for my baby. I am really grateful. If she wasn't here I wouldn't be here. I wouldn't know about it. She is the only one who tells me about this."
Charity is proud of her work. "The women are so familiar with me, it makes me happy. They call me Aunty. I provide most of the health information for them. Really there is no other in our community. They are very young mothers and they need me."
Birth registration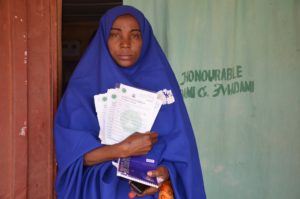 Every Tuesday is birth registration day. Once, hardly a soul turned up to register their newborns, but today, a long line of VCMs are standing clutching handfuls of registration forms, waiting to register the newborns within their catchment area.
Aminatu Zubairu, wrapped in the trademark blue hijab of the VCM, explains how all social mobilizers must come from their own community, and how that familiarity breeds the trust that has enabled her to register hundreds of children in her area. "I go to their houses and ask if they had the birth registration. If they say no I take all the information. Now I will register them and get the certificate of birth and carry it to their house to give back to them. In a month I can do 50 of these. This year there are plenty of newborns."
Danboyi Juma, the district's Birth Registration Officer, believes birth registrations have increased by 95% since VCMs assumed responsibility for the service. "They are helping us so much because they go house to house," he says. "They have increased the number of birth registrations in this area by so much – oh, that's sure."
Routine Immunization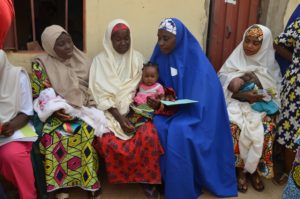 Despite stifling heat, on this Tuesday, there are more than 50 mothers and several fathers sitting on benches, waiting for their turn to have their babies vaccinated. More than 80% of them carry the cardboard cards given to them by VCMs to remind them their baby is scheduled for routine immunization.
Jamila, a young mother wrapped in a white shawl around her orange head-dress, is bringing her six-month-old baby Arjera to be vaccinated for the first time. Her VCM, Rashida Murtala, badgered her for months before Jamila finally accepted.
"Oh, she refused and refused," Rashida says. "She's fed up with me visiting. I went to see her today and finally she followed me. I'm happy to see her here."
Jamila smiles. "She has been disturbing me every day that I have to take this child to the health centre. I know she's right, so today I followed her."
Priscilla Francis, the Routine Immunization provider who vaccinates young Arjera, believes VCMs are key to strong vaccination coverage in Chikun district. "There is much improvement in attendance since the VCMs started. They are well trained. They do a good job of informing mothers to come. If we lost them we would lose our clients – no doubt. When they come we tell them to come back, but no one else is going to their house to bring them."
Hassana Ibrahim, a Volunteer Ward Supervisor, knows her mobilizers are important. "I have 10 VCMs, five in this ward. Non-compliance used to be a big problem but not now. Now with the routine immunization, the community sees they are providing a package of health care and now people comply with the polio vaccination."
Naming ceremonies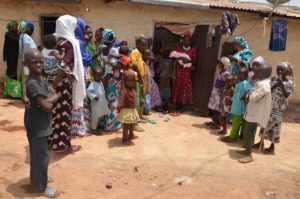 Following the routine immunization session, the VCMs fan out to attend the naming ceremonies of newborns in their catchment area. Naming ceremonies provide an important opportunity to vaccinate lots of children, as family gathers around to celebrate. On average, they attend 10 naming ceremonies a month. Today we visit Naima, the young mother of a 7-day-old boy, who as per tradition has just been named Jibrin by his grandfather. Naima is surrounded by her sisters, family and village friends, who cook and eat with them, and their 68 children under five. Within minutes, the VCM has walked among them all, vaccinating them as they sit waiting with their mouths open to the sky like little birds.
Naima is happy to see her trusted VCM, and encourages her to vaccinate the children. "I know her well," she says. "She taught me to go for ante-natal care, to deliver at the hospital and to go for immunization. She is the only health care worker who comes. We are from the same community. She is my friend."
Related News:
---
Related News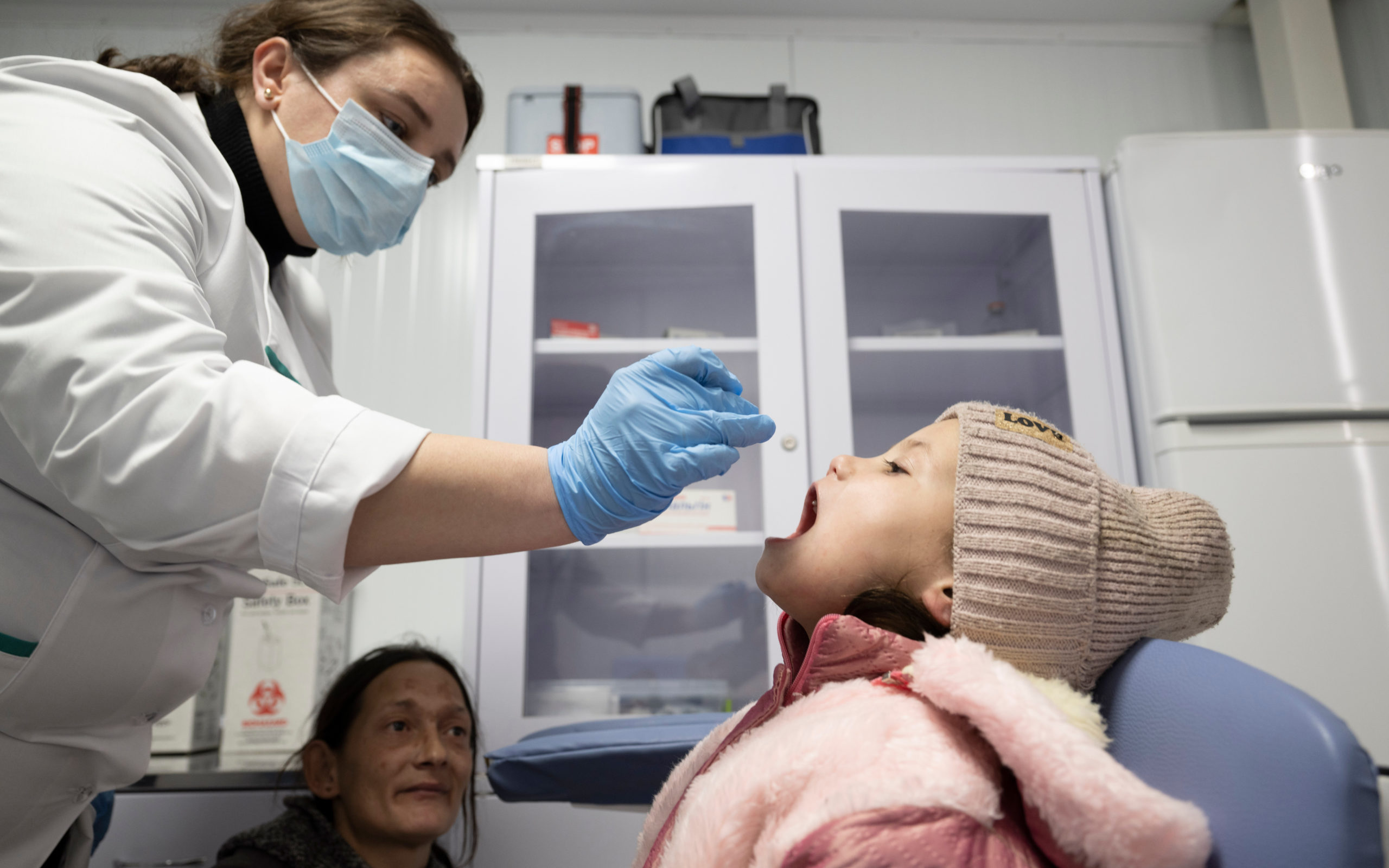 21/09/2023
A success story for public health despite extreme challenges of war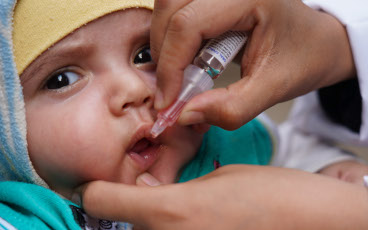 13/09/2023
13 September 2023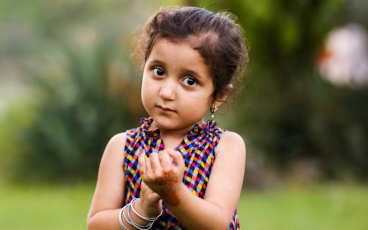 04/09/2023
Newly-appointed Pakistan leaders committed to delivering polio-free country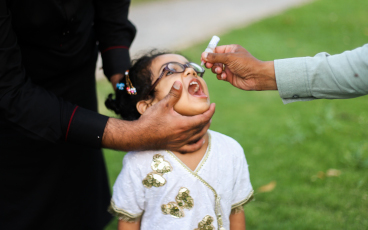 21/07/2023
Says commitment to polio eradication remains commendable, interruption of wild poliovirus is possible in six months with support from communities, government, administrative and security leadership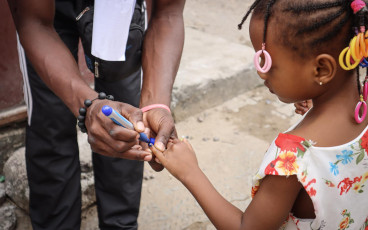 11/07/2023
Kinshasa, 7 July 2023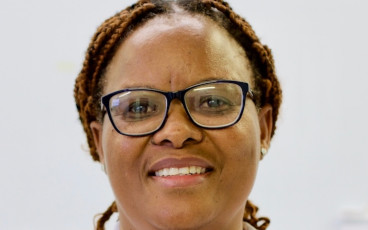 22/06/2023
Twenty years ago, Thongbotho Mphoyakgosi, wanted to be a social worker. "But fate had me here," she laughs, as she gestures to her surroundings at the National Health Laboratory, in Botswana's capital city, Gaborone.